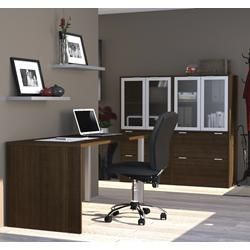 When creating the ideal custom office to suit individual business needs, it is important to establish what office furniture, storage units and electronic equipment will be required to streamline the running of the business.
The Custom Office At Home
When you are running your business from your residence, it is a good idea to have the office well away from the main living areas.
A designated work space at your residence will serve you well if it is close to the entrance of your property or a separate entrance altogether, maybe on the side of the house.
Clients will feel more comfortable when arriving at your home, if they do not feel as though they are disturbing your family.
 Ideas For Furnishing Your Custom Office
Some smart furnishing ideas to make your work space a comfortable and well laid out work area include:
Comfortable, well sized ergonomic desk chair will help you to avoid aching neck and back.
Suitable storage solutions for your work equipment and files.
Tall shelving with lockable cupboards underneath suit smaller work spaces.
Avoid extension cords running across the floor, as these can be a hazard.
Desks placed near windows will allow the person using the desk to enjoy more natural lighting and fresh air.
You will need to make sure you have the right furniture storage solutions to organise scissors, pencils and fax paper.
Lockable filing cabinets are a must to keep clients personal details and information private and confidential.
Flexi Custom Office & Office Furniture Design
Flexi Perth are the well known and trusted experts in office furniture design and manufacture.
Our team of professional furniture designers and specialised craftsmen create quality office furniture and storage solutions for any size work space.
We will come to your residence or your professional office away from home, where we will measure the space that will be your new custom designed office.
It makes sense to contact the experts to discuss your needs and requirements.
Our team will be able to design and manufacture the perfect office and office storage solutions for you.
We are able to combine all of your wishes with our extensive knowledge of functionality and ergonomics to create a custom office that is truly one of a kind.
Here at Flexi in Perth, WA, we invite you to contact us to arrange your FREE in-home design consultation valued at $300 and receive 3D drawings of your new office.
Please contact us on 08 9301 4200
July 23, 2017