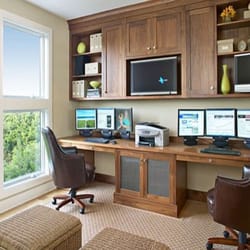 A custom office is the best way to organise your work day.
A separate custom office at home is essential when you work from your residence.
You know how difficult it is to work around everyone in the house at the best of times, but it is even worse at this time of the year with the children are on school holidays.
The kids are running through the house which is distracting enough without the added pressure for you to be stopping your work to make their snacks and lunches.
It would seem that since you work from home, you are now the babysitter, cook, cleaner and chauffeur.
Can you imagine how pleasant it would be to have your own custom work space in Perth, with a door that you can close and lock if necessary.
There is a whole different feel about your work day when you have a separate custom design work space.
Benefits Of Having A Custom Office For Your Home Business In Perth.
The first and most obvious benefit is that you can separate your work life from your family life.
When you are using the kitchen or family room as an office, you are too accessible to everyone.
The family tend to forget that you are actually working and keep interrupting you all day long.
Your paper work and files need suitable storage space.
A separate residential work space in Perth however, gives a clear signal to your family that you are in work mode and not to disturb you.
When you are working in your private work space, this sends up a red flag to everyone that you are off-limits for the next 4, 6 or 8 hours.
Complete Organisation With A Flexi Custom Office At Home
Here at Flexi in Perth, we help you to design your work space exactly the way you want it, with plenty of suitable storage and bench space.
Our team here at Flexi have been creating the perfect offices for our customers for many years now.
We have an endless choice of designs and finishes for you to select from.
It all depends on the amount of space you have available, your style and your budget.
If you are ready to take control of your work life at home and design the perfect work space in Perth, contact Flexi Offices on 08 9301 4200 or complete our online enquiry form and we will arrange a time for a free home visit and consultation.
May 4, 2017