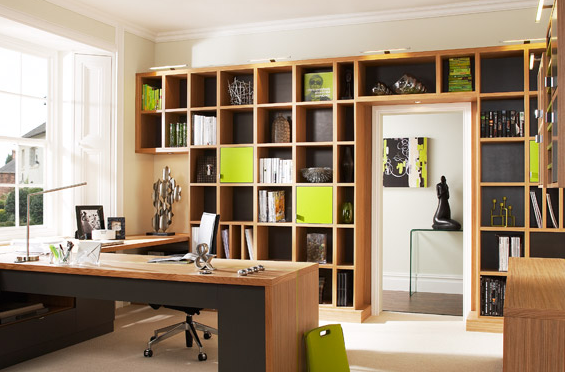 Working from home is becoming more and more popular for many Perth people.  Working from a home office offers a number of advantages over commuting to work every day.  It offers a certain amount of flexibility in work hours which is great for people with families.  People that work from home can also avoid the daily commute to and from work which saves them a lot of time and money.  While there are a number of advantages to working from home, there are also some disadvantages.  One of the most common problems that people working from a home office experience is difficulty in getting work done and avoiding distractions at home.  Productivity in the home office is a common complaint by those people that work from home.  The right home office can improve productivity and reduce distractions.  Here are some tips to for reducing distractions and improving productivity in the home office.
Keep it organised
An organised home office is a functional home office.   Nobody likes to work in a cluttered home office, therefore adding organisation tools to a home office is important.  When designing a new home office, people need to carefully consider what they can add to their home office to keep it organised.  Filing cabinets, shelves, plenty of storage, document trays and stationary holders are just a few things that can keep a home office organised.
Dress to impress
When some people work from a home office, it can be tempting to get lazy and spend the day in their pyjamas and forget about shaving!  However, this does not create the right mindset for a days work.  People that work from home need to maintain their regular work morning ritual.  Take time to wake up, get dressed in work clothes, have breakfast and then head to the home office for a days work.  Having the right mindset goes a long way in improving productivity in the home office.
Ergonomic all the way
While ergonomic office furniture may cost more than regular office furniture, most people find that it to be a good investment.  One of the most important pieces of furniture is the office chair.  Most people spend many hours sitting in their office chair, therefore investing in an ergonomic office chair is fairly important.  Ergonomic office furniture is cleverly designed to allow for good posture, less exertion and better height reaches, creating a more efficient workspace.
Meal prep on the weekend
Many people that work from a home office complain that they get distracted by jobs that need doing around the house.  It can be tempting to quickly pop out into the kitchen to put on dinner.  A great way to avoid this problem is to do some meal prep on the weekend.  A lot of people spend a few hours on Sunday doing some meal prep and this can save them a lot of time and stress during the week!
Have breaks!
Whether you work from a home office or you commute to work every day, regular breaks are important to include in the daily routine.  It is important for people to stand up, stretch their legs, maybe get some fresh air or have a healthy snack.  Regular breaks are a great way to improve productivity in any workplace.
Flexi Home offices in Perth have been designing and creating functional, productive home offices for many years.  Speak to their friendly team to find out more about their great range of custom home offices.
July 16, 2018