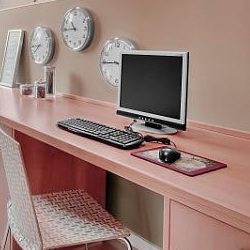 If you are struggling to work in a space at home that does not allow you to perform at your best, It may be time to look at your needs and consider some new office ideas and designs.
You need to understand what it is that you need to in an ideal work space. If you know what you need then you are off to good start.
Of course there are a lot of things you may want that are not really necessary, and so it all comes down to your budget.
Affordable Home Office Design Ideas
Here at Flexi our team are very experienced and with our very happy customers coming back to us time after time for the renovation projects, it is no wonder that we are very proud of our products and service. Customer service is an integral part of our business. We have been designing and creating quality custom made furniture for many satisfied customers throughout WA.
Smart Home Office Designs To Suit Your Lifestyle
At Flexi we understand customer's office and office furniture needs. We have been bringing to life their home office decor ideas for more than 15 years.
We have seen a large increase in the number of people looking to create a home office that is:
1. Professional
2. Functional
3. Ergonomic
We are the specialists and our clever designs make the most out of all available space.
Our modern decorating ideas are styled to complement your decor.
We take into account the needs and professionalism of those who will work in the office space.
Our home office storage solutions will not only address your home office furniture storage needs, but will also include those extras that you may not have thought about. These are the home office details that really make our offices stand out above the rest.
It is our customer service, unique designs and genuine care that brings people back to us, year after year.
We will come to your home to measure and quote, not an ordinary "measure and quote" something much more accurate. Your design idea will be brought to life before your eyes using our state-of-the-art 3D design software. You can take a virtual tour around the space and see how it will work in your room.
Change the colour or the style and immediately see the impact.
This is a great way to see exactly what is is that you want and need in your office space.
You can include some of our unique storage space ideas, change storage cabinets and desk surfaces.
Make your appointment today. Call us on (08) 9301 4200 and turn your ideas into reality.
Do yourself a favour, come and visit one of our showrooms and talk to our friendly staff.
February 9, 2017