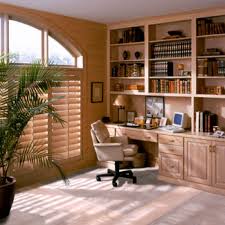 Working from home can be difficult if you do not have a designated work space.
There are so many distractions and this is why you need to have your own working room away from the rest of the household.
The ideal place should be a room that can be locked when you are not using it.
There are too many interesting things for the little ones to get hold of. If you are able to lock your office door, the rest of the family will soon learn that that is a no go zone thus keeping them away.
Well Designed Home Office
Now that you have established that your office needs to be the place where you are working from each day, you will need to have a smart layout.
It is important to have everything you need for your business activities close at hand. It is counter productive to have to leave the room to get printer paper, a stapler or anything you might require to work with. These items need to be stored in suitable filing cabinets or drawers.
You will streamline your working day when you are properly focussed, organised and have the right equipment in your room.
If you need ideas for a well organised office to suit your individual needs, then engage the professionals.
Flexi in Perth are the experts when it comes to smart residential office design and custom built storage furniture.
The team from Flexi will come to your residence and look at the space you want to create your office in. They have years of experience in the designing, crafting and installation of home offices.
They will sit with you and discuss your particular needs and what will suit you. They will share their innovative ideas and show you how you can optimise your working day with a smart layout and the correct storage solutions for your business.
Office Designs & Showrooms
Flexi have showrooms in Perth at Myaree and Joondalup.
When you visit the showrooms you are able to see the quality of their craftmanship for yourself.
The custom built furniture has soft closing doors and drawers as standard.
Innovative design ideas and a vast selection of storage solutions.
The cleverly considered office storage furniture, cable ideas, efficient and well designed work areas provide the perfect functional office.
See for yourself how Flexi help to promote your home business with a professional finish that will impress. Contact Flexi Home Offices on (08) 9301 4200
March 6, 2017