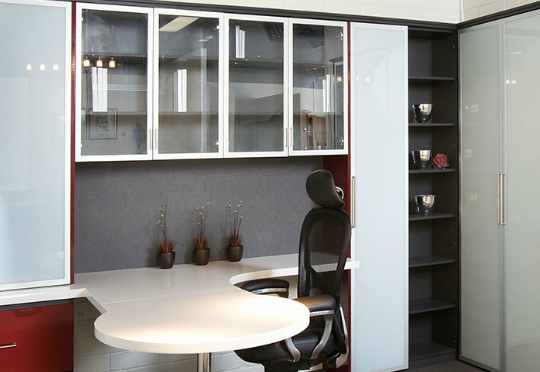 The Home Office
At Flexi Home Offices we have an infinite array of well-constructed office ideas, which we can use to customise your office space. It is fair to say that a cleverly thought out home office will give you the necessary psychological barrier between your work life and your home life.
Residential Office Space
You have most probably seen plenty of home office ideas in magazines, but putting them into practice in your own home can be difficult. This is where we come in, because we can take your office ideas and turn them into a functional and comfortable office space that is perfect for working at home.
Trying to run your business from a laptop on the kitchen bench is no fun and can lead to you feeling overwhelmed and not being as productive as you could be. This is why a dedicated  office is essential to the success of any home business, so let's take a look at some office ideas that might work for you.
7 Essential Home Office Options
Professional: Whether or not you have clients coming to your office, you still need a space that looks professional and reflects your brand. This will give you a psychological lift and impress your clients as well.
Functional: Of course, you need your office to be functional, so this is where your own home office ideas come into play, because we can incorporate all of your ideas into your new home office.
Ergonomic: This is an essential element in your new office, so on your list of home office ideas, make sure to include an adjustable computer chair and a desk with enough space in the room and at the right height to be comfortable.
Clever design: If you need a stand-up computer desk, a graphics table or wall to wall shelving to display your products, we can use our exceptional design skills to give you a clever design that includes all of these elements.
Optimising the space: Taking your home office ideas on board, we make sure to maximise the use of space, so your office is comfortable and has all of the furnishings and elements you need to run your business from home.
Matching décor: We make sure that your new office cabinetry and all of the furnishings match the current décor of the office space and also your home.
Customised: The whole point in bringing in the experts to design and install your new office is so that you have the perfect space to run your business at home. At Flexi Home Offices, we give you a custom made office space that will help you to focus on your work and build your business.
So if you are ready to discuss your home office ideas with the experts, call us at Flexi Offices on 08 9301 4200 or complete our online enquiry form.
July 12, 2016