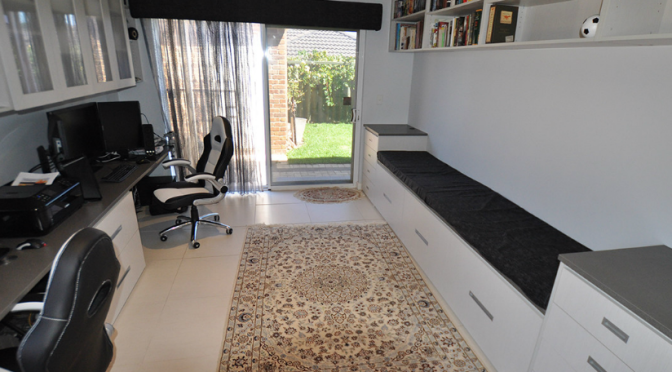 Work From Home In An awesome Home Office
The home office is becoming more and more popular, as the way we live our lives continually changes. When you think about it – our lifestyles have changed dramatically over the past ten or twenty years, which means that your home style may no longer suit your family's needs.
We no longer all leave home to go to work, many of us either work remotely from a home office or even run our businesses from a home office. We also need a home office for our children to study and to complete their homework, a home office out of the way from all the hustle and bustle of the household. The space in the  spare bedroom could be utilised to serve multiple uses with some clever office storage and home office design ideas.
On top of all this, home office storage space is essential. It would be wonderful to have a home office storage space dedicated to all of our office stationary, books and the phone fax etc. A spare bedroom is an ideal space to create a good sized home office. The multi purpose  home office space could become a peaceful spot at home to read and get away from the noisy kids and TV in the evenings. A home office is a great place to speak privately on the phone, do a crossword puzzle or do nothing, just relax. So let's take a look at 3 different home office designs, which will fulfil each of these needs.
1. A home Office For Your Business Or Home Office Storage
It is no longer practicable to balance your laptop on the kitchen benchtop when you have to work at home. Home office designs have come a long way and now you can have your own dedicated home office, designed to suit all of your needs.
So if you want a large office computer desk with enough room for multiple screens, your fax, phone and printer then that is exactly what we can design for you at home.
2. A Home Office Or Study Area For The Kids
Even with one child studying at home, finding enough peace and quiet at home for them to study can be a problem – let alone with two or more children all having to study at home in the evenings or at home on the the weekend. So today's home office style designs now include a dedicated study ( or home office) for the kids so that they can be tucked away safely at home without any distractions, until they have finished their home studies.
In an office at home you can have one long computer table that runs the length of the room with multiple computer points or individual desks for each child. Whatever you feel will work best in your home for your children and for your space at home. We can design the perfect style of office for your home . We can install your office or home study for you within a very short period of time.
3. A Library, Office, Or  Quiet Reading Room
Have you ever just wanted a quiet spot in your home to read the newspaper without being disturbed? Maybe you have always dreamt of your own library at home or just somewhere you can read your favourite books?
Well home office designs can be customised to give you exactly what you need from an office at home. If you need more office storage in your home,  or if you want a quiet reading nook in one part of the family room or an entire room fitted out with office storage furniture designed to your specifications, then that is exactly what we will do for you. The perfect office in your own home.
For the best home office designs in Perth, call Flexi Home Offices on 08 9301 4200 or complete our online enquiry form and we will arrange a time for a home visit.
December 24, 2015