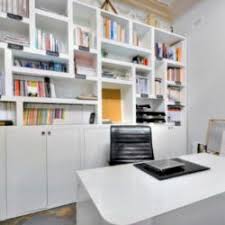 Whilst pondering whether to have a home office or not in your new Perth home, it is worth considering how often you would use it, then it becomes very clear that you would most definitely benefit from a home office.
Today we all live in a high tech world, with most family members having at least one digital device each, yes even little toddlers with their "Leap Frog" tablets are in training for a future life amid countless forms of digital technology.
It makes sense to have a quiet room with suitable office furniture in your home, where all family members are able to either study, search the internet or use the photocopier and printer, without getting in the way of other family members or being distracted by the normal noises that are part of a normal family life.
The multi purpose home office is the ideal place to keep all the personal papers, documents, billing accounts, tax receipts and paperwork all readily accessible when needed.
A smart custom office with the correct furniture which has been designed for multi purpose use, will be invaluable to those families who have at least one student in their home.
Most bedrooms these days do not have enough room to include a reasonable sized study desk and chair, let alone conveniently located power outlets and good lighting.
Many a student has opted to sitting on their beds, hunched over their ipads or laptops, as they escape the interruption of clanging in the kitchen or dogs barking at the adds on TV.
Flexi Home Offices For Students
Today, very young children are now in preparation for starting school earlier, with formal daycare, kindy and prep.
These budding scholars, eager to show off their new learning skills, will need the use of a home office with suitable furniture. At the very least they will need a designated desk top and adjustable chair as well as a shelf to house the pencils, paper, glitter and glue that will be required to produce the many masterpieces that will adorn the family fridge.
If the young student has their own paraphernalia kept in their own personal area in the home office, they will be less likely to rummage through papers and pens that belong to the grownups, as they look for something to draw on.
If your young child has a love of drawing and writing,  it would be a practical lesson for them to be seated correctly at a desk in an adjustable chair to suit their height.
For those of you who would prefer to keep an eye on things while the students are in the study using the computer or other office equipment, there is always the option of "glass doors" to the home office.
Flexi Home Office Designs
Streamline "study time" in your home with a custom designed home office created and installed by the experts at Flexi, contact them today on (08) 9301 4200.
April 11, 2018