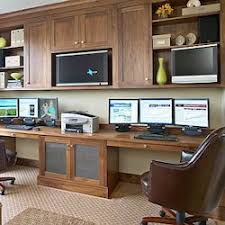 You can be ready at "Tax time" if you have an organised home office in Perth.
A well planned home office will help you keep all your personal papers, business papers and tax receipts stored in an organised and easy to access manner.
"Tax time" is sometimes, a frustrating time, when you are searching for receipts, invoices and pay slips, however if you have an investment property or you are self employed, you will need to be super organised.
"Tax time" can be far less daunting if you have organised storage for your private and also for your business papers.
Your office space does not need to be large, it just needs to have a good design, and be well laid out with all the paraphernalia that you need to keep everything running smoothly.
Office furniture that is suited to your personal needs is a great place to start, along with a desk area, adjustable chair, shelving and lockable filing cabinets, good lighting and well placed power outlets, you should be able to run the household accounts easily and efficiently.
If you are not sure what is is that you need in a good office design, then have a chat with people from Flexi Home Offices in Perth. They are the experts in creating custom offices, commercial offices and office furniture, they have been helping customers for many years, with smart design, building and installing home offices and furniture in WA.
Complement Your Lifestyle In Perth With Home Office Ideas
The team at Flexi have been taking the time to understand customer's office furniture needs and bring to life their home office decor ideas for more than 15 years.
The experts at Flexi will help you to create an office that is:
Professional
Functional
Ergonomic
Cleverly designed
Optimised in available space
Modern with decorating ideas that are complementary to the décor of the room
Fitting to the needs and professionalism of the people who will work there
Designed, built and installed by a company who really care about the service their customers receive
The office storage solutions offered by Flexi home office furniture designers, will address your home office furniture storage needs as well as add additional elements that you may not have considered.
By adding personal touches that will make your office space unique to you, Flexi ensure that their home offices and furniture are a cut above the rest.
Flexi's customer service, unique designs and genuine care is what brings people back, year after year.
Contact Flexi today on (08) 9301 4200 and let them transform your work space at home.
April 30, 2018