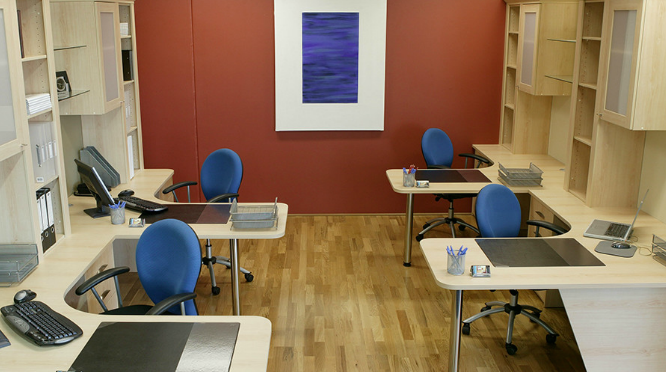 The Home Office
Home office designs are becoming more and more popular with families today, due to the fact that our lifestyles are changing and we find ourselves using the same room for multiple purposes. Home office design ideas are wide and varied. The home office is a necessity to your home bringing flexibility to a fast  paced lifestyle.
A good example of NOT incorporating a home office design into your lifestyle and instead struggling with multi-tasking in rooms – is where the kitchen starts to disappear under a mountain of bills, kid's homework and extra work brought home by yourself or your partner. Having to push paperwork out of the way or kick the kid's out of the kitchen to cook dinner is no way to promote a happy family life.
It becomes even worse when you can't find a particular bill that needs to be paid today or you forget that a bill even needs paying, because it is hidden under a deluge of paperwork, sweaters, school bags and other paraphernalia on the bench tops. Yes you can see that a home office is a must.
The Home Office is

 D

edicated Space
You need a custom designed home office
Wouldn't it be awesome to have a home office design just for your specific needs. A room style with space dedicated to all of this home office paperwork and storage space , school work, bills and other home office related collections? You might even run your own online business from the home office.If you are squeezing your home office and office storage into the same space as the living room or even a nook in the family room, then you seriously need better design ideas for your home office and office related storage space. We can design the perfect home office style for your home office storage solution.
Home Office for Paper Work
Home office designs can fit a home office design and storage room to suit your ideas and living style .They can create a functional style of home office design with home office storage into any room space you have available. We can design one that easily slots into the kitchen area, just off to the side where all of the paperwork can be stored away, leaving your kitchen bench clutter free.
Spare Room or Office?
How about a home office designed specifically for your spare room, where you can have both a home office space design and a spare bedroom for guests? Of course, the ultimate room style is to have an entire room dedicated as your home office.
Modern Home Living
Designs that are for modern home living and reflect your living style and decor style ideas are easy for master craftsmen to put together, so isn't it about time that you took the plunge, decluttered your life and organised a separate space as a home office? Get back the spare bedroom. No more clutter in the living room.
Why is home office design important?
Unless you live on your own and don't mind multi-tasking in your home, then a separate home office in your home is a must for most parents and couples. With room space dedicated as your work space at home, you can close the door and walk away, leaving all the clutter out of sight.
This can be a huge positive for people who work from home and operate online businesses, because they need to separate work from their home life and if the office IS the kitchen, they don't ever seem to have any rest from work.
So if you want to liberate yourself from a house full of office and school clutter, call Flexi Home Office Designs on 08 9301 4200 or complete our online enquiry form and we will arrange a time for a home visit.
November 12, 2015