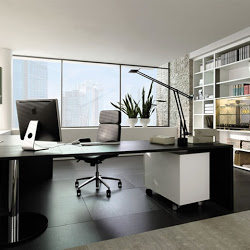 The Perth home office is now a standard requirement in most modern homes as our lives and priorities have changed and those people who need to work from home will benefit with help from the experts at Home Office Perth.
A few years ago, an office wasn't a priority because most people left their homes to go to work.
Today however, there is an increasing number of people who are realising that lifestyle and quality of life are more important than working 9 – 5 away from the home.
A lot of people are now changing the way they work by either starting their own home based business or they choose to work remotely from their residwnce for an employer.
These lifestyle changes require the practicalities of a professional space in the home.
Where Is The Best Location For A Home Office?
The best location for your office is close to the front entrance, allowing clients or customers to enter without moving through the rest of your residence, thus keeping your living space private.
Another good location is at the back of your residence, if there is another entrance at the rear that doesn't involve clients walking through your house.
You can erect a separate building or granny flat in the backyard to be used as an office.
The conversion of the garage works well when there is an alternate area to parking.
Any room that can be easily converted if your work does not involve customers or clients coming to see you.
It is very Important to make sure that your office at home has a secure door, not only to reduce any distractions from the rest of the residence, but to be able to lock the office keeping private customer files and business documents secure.
The Flexi Home Office Perth Difference
Home office design is our business. Here at Flexi we take the time to come to your residence.
Customer service is a priority and we always strive to give our customers the highest standard of service and the very best products. We will sit with you in the space that we will design a new office for you and therefore we are able to:
Take the time to understand your needs without disruption
Illustrate office design ideas that could resolve your most difficult storage challenges
Accurately measure the office space for you
Create a 3D computer model of your new home office storage solution design on the spot
Provide you with an instant quote
Give you a fixed completion date.
We deliver your project on time and on budget.
Our excellent customer service process provides you with a clear outline for your home offices installation from start to finish.
For more information on our Perth home office designs, call Flexi Home Offices on 08 9301 4200 or complete our online enquiry form.
December 19, 2017