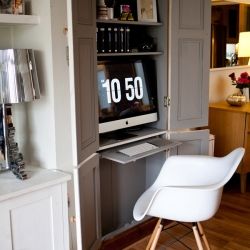 With so many people choosing apartment lifestyle living, there needs to be careful consideration as to the furnishings.

Many apartments are open plan living and can be divided into separate living areas with the clever placement of functional furniture pieces.

Flexi in Perth, have been designing and crafting premium furniture pieces including innovative storage furniture for home offices.

The team at Flexi have decades of experience designing, building and installing home office furniture.
They understand the complexities of designing for the needs of today while keeping in mind the technological advances of tomorrow, always aiming to give you a result that both delights and supports you in your work.

When it comes to creating a functional home office in a tiny apartment, the design team at Flexi are able to come to your apartment, measure up the available space where a compact unit can be created and installed.
Compact Home Office Design Is A Winner
You will be amazed at how much storage space can be created within a cabinet style compact home office.

Your compact home office can easily include a work top, lockable filing cabinet, draws, shelving and charging station, all within a beautiful piece of furniture that becomes a stylish addition to any room.

When you choose a Flexi home office design, you can expect:

On time delivery and installation
The ability to set work within your own budget
Quality workmanship
Professional standards
Friendly and courteous staff
Experienced office designers who listen and create the ideal solution for your unique needs
Colour and style choices that will compliment your residence
Qualified tradespeople who are respectful of your property
The team from Flexi will take the time to come to you at your residence to sit with you in the space that will become your new home office including:

Taking the time to understand your needs without disruption
Illustrating design ideas that could resolve your most difficult storage challenges
Accurate measurements
A 3D computer model of your new storage solution design
An instant quote
Fixed completion date
Flexi's customer service process provides you with a clear outline for your office's installation from start to finish.

For your free consultation, contact Flexi to make an appointment with one of the team today on (08) 9301 4200.

June 21, 2019