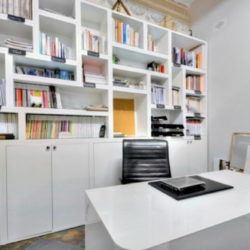 If you want your home business to be taken seriously, then project a professional image with a clever layout and the right office furniture.
The right office furniture, will make a huge difference to how your customers or clients view your services, and also help streamline your workflow each day.

Flexi Home Office Furniture Solutions
The industry experienced team at Flexi have been designing and crafting quality home office furniture for almost 20 years and they have earned a reputation for providing exceptional products and outstanding customer service.
They are able to create the most innovative office furniture with clever storage solutions for any space, large or small, at your home or at a commercial location.
The reason Flexi are able to achieve such outstanding results, is that they are prepared to come to your home or commercial unit and measure the future office area accurately, to utilise all storage space.
Things To Consider For Your Home Office
Some basic ideas for your office may include:
The right storage furniture including a suitable desk, correct size chair and adequate storage for files and stationery items
Ample power outlets to avoid extension cords laying across the middle of the office floor where someone can easily trip over them
A smart layout, to ensure everything you need is close at hand and easy to reach safely
It just needs to have sufficient ventilation and natural lighting where possible
There needs to be suitable storage to accommodate the items that are needed for working efficiently in the space without being cluttered and overcrowded
Lockable filing cabinets for clients personal details
A lockable door to your office, which is essential to keep curious children out
Privacy In Your Home Office Perth
A private entrance to your home office is a smart way to project your successful image, while keeping your private family life completely separate.
As your office is the first point of face to face contact with your clients, a separate entrance will project a professional image of yourself and your office space.
This can be easily achieved if you use a room at the front of your home, and replacing a window with glass sliding doors to provide a designated entry for clients.
See for yourself how the team at Flexi help to promote your home business with a professional finish that spells success!
For your free consultation contact Flexi to make an appointment with one of their team today on (08) 9301 4200.
July 28, 2019