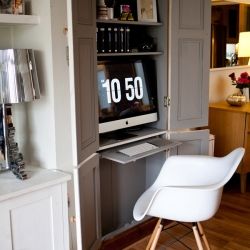 If you need a home office in Perth, but you live in a tiny apartment, you can still have a dedicated home office to work from.
You do not need to have a spare bedroom to create a functional home office.
With an experienced and clever furniture designer, you can have a complete home office setup within a very small area.
Flexi Home Office & Custom Furniture In Perth
You will be amazed at just what can be designed to meet your needs. The team from Flexi can come to your home and look at the space you have available and then discuss your available options.
A custom designed built in home office unit can be designed to take up the same floor space as a two door linen cupboard.
The clever design will deliver a smart office requirements such as:
Desktop
Chair
Filing cabinet
Storage shelves
Lockable overhead cupboards
Computer station
Recharging station for electronic devices
Adequate lighting
Lockable door for security
The team from Flexi have the experience and the expertise to design, manufacture and install a beautiful, yet functional built in home office unit. When not in use the compact office unit can be locked and become a very attractive piece of furniture in your home.
This is the ideal solution for anyone living in a small apartment who needs to have a designated work area, which can be locked when not in use.
No matter what your style and taste is, when you choose Flexi to create your new office space, you get to choose how it will look, feel and function.
You can look forward to professional service from start to finish from the team at Flexi, with clear communication and understanding of what your exact needs and your expectations from your home office design, including:
Taking the time to understand your needs without disruption
Illustrating design ideas that could resolve your most difficult storage challenges
Accurately measuring the space for you
Creating a 3D computer model of your new storage solution design on the spot
Providing you with an instant quote
Their customer service process provides you with a clear outline for your office installation from start to finish
You will receive a fixed completion date
Your project will be delivered your on time and on budget
Do yourself a favour and contact the team at Flexi on (08) 9301 4200.
March 27, 2019