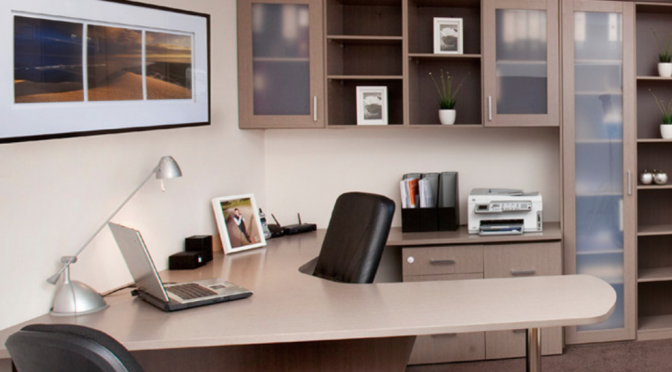 The home office is such an important part of a Perth Home.  Most Perth families need a home office, whether they work from home, study or have children that need a workspace.  The home office is an area that is often in use throughout the day, sometimes by multiple family members. Many people in Perth presume that creating a new home office is expensive and time-consuming, and so they put it off and make do with the office space they have! The team at Flexi Home Offices, however, can create a professional, functional home office in minimal time and at a competitive price.
The Process
The team at Flexi Home Offices have devised a way to install your office space with as little disruption to your day and productivity as possible. There are 3 simple steps involved in getting that much needed new home office.
Contact Flexi Home Offices on (08) 9301 4200 to make an appointment
One of our home office designers will meet with you in your home.

 

They will listen to your office needs and talk you through all of the home office ideas that you have.

 

They will make suggestions about the home office based on their experience and knowledge but their ultimate aim is to design a home office that is perfect for the customer.
Watch your home office design ideas come to life before your eyes then confirm the design and book a day for installation. The home office design idea is then brought to life using their state-of-the-art 3D design software. Customers are able to take a tour around the space and see how it will work in the room.

 

They can change the office colour or style and see the difference it makes to the room.

 

They can take a look at home office storage ideas or change cupboards and desk surfaces and see how it looks.
Flexi Home Offices in Perth will be able to provide a quote on a new home office straight away, on the spot. Then it's just a matter of booking the installation day in at a time that suits the customer.
The team at Flexi Home Offices understand that most people want a home office that is professional, ergonomic, functional and cleverly designed.  They understand that different people have different needs when it comes to their home office. They can design and install a custom home office with minimal cost and inconvenience to the customer.  Contact Flexi Home Offices in Perth today on ph 08 9301 4200
May 18, 2018