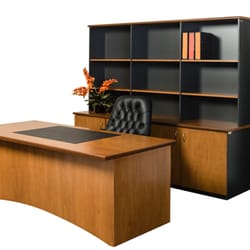 Today many of us have more than one job, and often these jobs require us to have a designated work area in our homes where we can focus on emails, phone calls and preparing invoices without being disturbed by other members of the family.
The ideal area is a custom designed office space that suits your particular needs to manage your work efficiently.
For those of you who need the convenience of working from a custom office in your Perth home, it is important to ensure that everything you need to conduct your business activities in an efficient manner, are close at hand.
It is counter productive to have to leave your home office to get printer paper, a stapler or anything you might require to work with, so it makes sense to have these items stored in suitable office storage furniture.
You will enjoy a much more productive work day when you are properly focussed, organised and have the right equipment in your home office.
If you need ideas for a well organised office space to suit your individual needs, then engage the professional team at Flexi in Perth, WA.
These professional designers and craftsmen are the experts when it comes to smart office design and custom built storage furniture.
They will come to your residence and look at the space you want to transform into your designated work space.
With years of experience in the designing, crafting and installation of offices and office storage solutions, you will be impressed with what can be achieved in a specified time frame.
Flexi Custom Offices Perth
Flexi have showrooms both North and South of the river in Myaree and Joondalup where you can view and discuss custom office design options including:
You are able to see the quality of their work for yourself.
Try the custom built furniture which has soft closing doors and drawers as standard.
Innovative office design ideas are displayed.
You can see the cleverly considered storage furniture.
Discuss cable ideas on how to keep your floor space free of trailing extension cords.
Contact Flexi Home Offices for a free home consultation on (08) 9301 4200
November 26, 2018