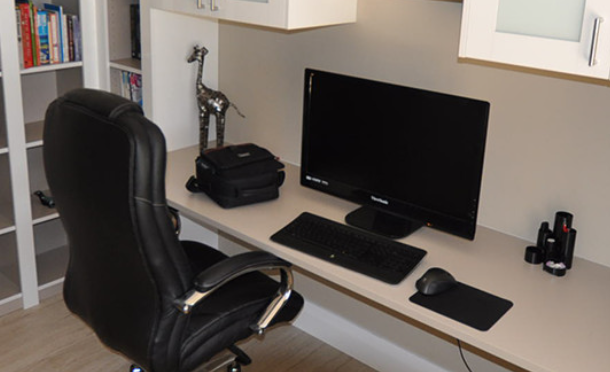 Custom office spaces are becoming more popular in our homes, because people are paying more attention to the quality of their work life, as well as their family life. With the gradual movement from commuting to work every day, employees are finding that spending a few days every week working from their residence gives them a much better lifestyle and reduces their work stress.
This is one of the reasons why a custom office is so, but with many people now starting online businesses to supplement their income as well, home offices are more popular than ever.
On The Spot Custom Office Designs With Flexi Offices
At Flexi Offices, we understand that your time is valuable and that when you have made the decision to invest in a custom office space at home, you want it up and running as soon as possible.
This is why we have put together an instant, on the spot quote for our customers in Australia. The way this service works is that we come to your property, inspect and measure the space you have available and then discuss the design of your custom office with you.
We can create a variety of different designs and style for your home office right there on our laptop and once you are happy with the design, we will give you a quote for the work right then and there.
This means that you can tweak the design to suit your custom office space, add different elements and remove them until you have the office space you need at a price you can afford.
So if you want an office with high end Australian finishes or a more budget conscious design, we can create the designs on our laptop, making it so much easier for you to visualise the space before making your final decision.
We can also add shelving to display your products, multiple computer stations for casual employees or even the kids to do their homework. You can have a large desk with plenty of work space or a small computer station with more space for cabinetry or seating for customers.
Whatever you need in your custom office space, we can include in the design, making your working day so much easier and more comfortable. As you can imagine, having a separate office with a door that can be closed at the end of the day, helps you to separate your work day from your family life.
The design of your custom office is vital to your productivity, so if you are ready to make some serious changes to your working day, call us at Flexi Offices on 08 9301 4200 or complete our online enquiry form.
July 20, 2016