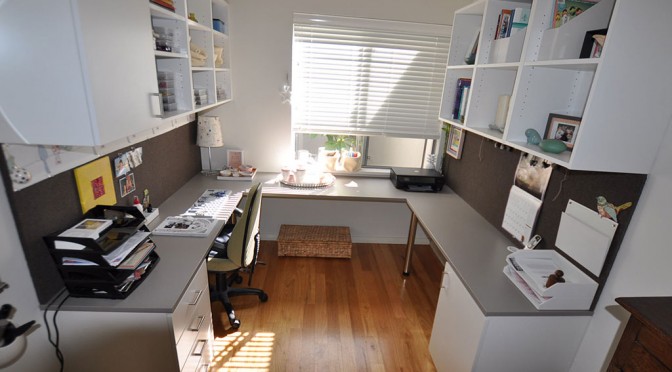 A home office in Perth has become very popular for many people, particularly those who want to save money on renting office and storage spaces. In today's financial climate, any savings that you can make on your home business expenses is a move in the right direction, particularly when it can actually move your business forward.
Working from home is not for everyone, but more and more people are taking the plunge and finding that it suits their lifestyle, as well as saving them money. It is fair to say that many employers are favouring remote workers, as this reduces the rent they need to pay for office spaces as well.
Save Money With Your Own Perth Home Office
So the two types of people who regularly work from a home office in Perth are employees who work remotely (part-time or full-time) and business owners who can easily run their business from home. For this to be successful however, you need more than a kitchen bench to hold your laptop, you really need a well-designed and equipped Perth home office.
If you try to work from home or run your business from a laptop in the kitchen, you find that very quickly you will become frustrated and lose your edge. The ideal solution is a Perth home office that is designed perfectly for your work and file storage requirements, making your working day at home so much easier and more pleasurable.
At Flexi Home Offices, we offer three different types of home offices – the Organiser, the Professional and the Executive. The main difference between these three designs is the complexity of the design, storage and the finishes, which is reflected in the costs.
The Organiser: If you are just starting out and have a tight budget, then this is the perfect solution for your home office. We will design the home office to suit your needs, with a desk, shelves and storage cupboards. You will have everything you need, installed for you and within your budget.
The Professional: This style is more for larger office spaces or for people who have a modest budget and want more expensive finishes than with the Organiser range. At this price point you can have multiple work stations, storage and make your Perth home office really shine.
The Executive: Here you can go to town with all the bells and whistles and the very best, high end finishes. Even at this level, the cost of your Perth home office is not unreasonable and will pay for itself time and time again as your business grows and expands. Perfect storage for all your files and paraphernalia, keeps everything safe and easy to find.
For help designing your new home office in Perth, call Flexi Home Offices on 08 9301 4200 or complete our online enquiry form.
March 17, 2016