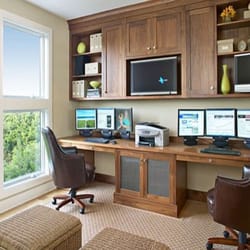 Home offices in Perth homes today are designed to provide efficient running of the household as well as a hub for all the family high tech devices.
A smart design for a home office will provide a practical room for running a business from as well as a secure place to store important papers, accounts and documentation.
We all have bills to pay and accounts to keep on top of and when tax time comes around every year we need to be able to find all our statements and receipts quickly and easily.
A lot of our documentation is now in our computers along with email receipts and invoices that may need to be printed out at a later date, so it makes sense that the computer, fax machine, scanner and printer are all in the home office along with filing cabinets and stationery.
The Modern Home Office In Perth
It is very easy to organise a practical and efficient home office in your residence.
One solution is to re purpose the spare bedroom or maybe an unused formal dining room.
Whichever room you designate for your home office, make sure that you can lock the door, to ensure the privacy and the security of important documentation, this is essential when you have children in your home.
Students Study Needs
The practical home office will have storage furniture for the needs of all the family.
There should be lockable storage for important documentation, personal papers, birth certificates, passports etc as well as shelving and drawers for the family requirements.
The home office is a great place for students to do their homework in peace away from the noise of the rest of the family and television.
When there is a designated room for students to do their homework, they can leave it spread out on the home office desk while having dinner etc, without having to pack it all up to make room at the dinner table at meal times.
Why Is It Important To Have A Home Consultation?
The team at Flexi are the experts in modern office and storage furniture design.
They take the time to come to you at your residence because it excellent customer service is integral to their business. By sitting with you in the space that will become your new home office they are able to:
Take the time to understand your needs without disruption
Illustrate design ideas that could resolve your most difficult storage challenges
Accurately measure the space for you
Create a 3D computer model of your new storage solution design on the spot
Provide you with an instant quote
Flexi's customer service process provides you with a clear outline for your office installation from start to finish,
With a fixed completion date on budget!
Contact the team at Flexi Home Offices Perth on (08) 9301 4200, and speak to them about a free home visit to discuss your options for a very smart home office makeover.
July 8, 2019