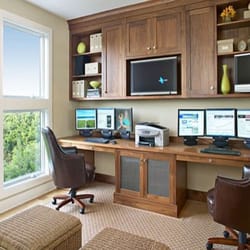 Take your home business in Perth to the next step, starting with your office.
Everybody wants to deal with successful people, so make sure that your office demonstrates to your clients that you are professional and successful.
As a professional, you need to look the part and promote your image to those who would be prospective clients, therefore it is necessary to invest in your place of work. Your office needs to be functional and include practical ideas such as:
Uncluttered floor space to allow for unrestricted movement around the work area
Ergonomic office furniture such as desks and chairs
Comfortable seating for visiting clients and customers
Adequate lighting and ventilation
Easy to access drinking water
Lockable storage for private files and client personal information
Comply with OHS requirements
Invest In Your Image With A Flexi Home Office
Flexi have been designing, crafting and installing offices and furniture in WA for years.
Their professional design and manufacturing team are experts in the industry and have been providing outstanding products and service to their customers throughout WA for many years.
The team from Flexi will come to your home and sit with you, looking at the area that will become your new office. Here you can discuss your needs and share your ideas with the team on how to get the most out of the space you have.
The team from Flexi can bring your vision to life with a custom design second to none. Their state-of-the-art 3D design software will help to create your custom home office design right in front of your eyes.
At your free home consultation, you can expect:
On the spot design with a completed quote on the day for a custom design that exceeds your expectations
Timeframe for production
Date for installation
It is the experience and extensive industry knowledge of the designers that makes a Flexi office a space of beauty and success.
A Flexi Home Office project will deliver:
On time delivery and installation
The ability to set work within your own budget
Quality workmanship
Professional standards
Friendly and courteous staff
Experienced office designers who listen and create the ideal solution for your unique needs
Colour and style choices that will compliment your residence
Qualified tradespeople who are respectful of your property
Contact the team at Flexi and speak to one of their industry experienced designers to find out how they can create the perfect home office for your business.
Phone Flexi Custom Offices today on (08) 9301 4200 to arrange your free design consultation.
March 21, 2019