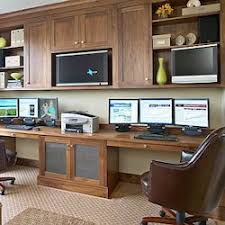 Having a custom built office in Perth where you can keep all your bills, paperwork and important documents in a safe place, is the key to being organised in today's busy lifestyle.
It makes sense to invest in a multi functional office space which is designated for those times when we need peace and quiet as well as being able to locate important documents that have been filed away.
This is particularly beneficial at tax time, when finding all those important invoices and receipts needed to complete your annual tax assessment.
The key to a great multi purpose office, is the correct office storage furniture. The right office furniture will make a significant difference to the practical and effective storage solution in your office.
Flexi Custom Office Furniture Design
Flexi are a Western Australian company which has been designing, building and installing beautifully functional home and corporate offices for the people of Perth since 2001.
Their vision is to deliver a solution that exceeds your expectations in terms of quality, craftsmanship and delivery so that you have an unrivalled home renovation experience.
The team at Flexi value their customers, dedicating time to listen, suggest, guide and ensure that all of your office needs are addressed through innovative and beautifully functional design.
Easy Peazy With Flexi
Managing the finances at home is much easier if you have a custom built, designated office area for this purpose. The experience of the highly trained team at Flexi, specialise in creating the perfect multi functional office that will streamline the way you manage your household accounts and provide a quiet space where family members can go to do homework, surf the internet, write emails or even just read a book.
Do yourself a favour and arrange a home consultation to find out just how easy it is to have an awesome office for all the family to use.
Flexi can install your dream home or corporate office in as little as four weeks and unlike other companies, this is all included in the price.
Flexi use their own team of experienced, trusted installers, thus they can guarantee the quality of your custom office from the first design idea to the final fitting.
Their aim is to exceed your expectations. Contact Flexi today on (08) 9301 4200 and find out what makes their customers keep coming back.
October 6, 2018