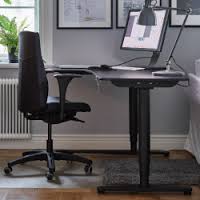 In Perth, WA there are specific health and occupational regulations in place to cater for those who work outdoors, in factories, retail, restaurants and offices.
Whether you work in a commercial office space or from an office in your home, there are some very simple steps to take to make sure that we are comfortable and in a hazard free office.
Being mindful of keeping your work environment hazard free and comfortable is quite simple and basic common sense is usually applicable.
Points to note include:
Sedentary office work involves long periods of sitting down which poses problems not only with lack of movement but also incorrect posture will have adverse effects on the spine, therefore using and ergonomic chair and taking regular short breaks to stretch will be of benefit.
Poor ventilation can cause Sick Building Syndrome which has symptoms including, irritation of eyes, nose and throat, headaches, fatigue, and a susceptibility to colds and flu.
Inadequate lighting is another health hazard. Office work is visually demanding and therefore good lighting is essential for maximum comfort and productivity. "Good" lighting means providing enough illumination so that people can read printed, handwritten or displayed documents clearly without being blinded by excessively high light levels (a cause of glare).
Untidy offices that have boxes of materials or piles on the floor creating a trip hazard. Every office needs to have sufficient office storage furniture for files and documents. Power outlets need to be in an area close to where the electronic items are. A mass of extension cords running across the floor is a very real health hazard and therefore caution is needed when choosing a safe office layout.
Flexi Custom Home Office Design
The team at Flexi in Perth have been designing, crafting and installing custom office storage furniture for customers for many years. Flexi are the experts in custom office designs and clever storage furniture ideas.
As part of the extraordinary service, a team member will come to your office and sit with you to discuss your ideas as to what you have in mind for your office and office furniture, assisting you their knowledge from years of experience helping customers get their perfect office solutions.
Contact the friendly team at Flexi Custom Home Offices in Perth on (08) 9301 4200 and find out just how simple it really is to get the perfect office design for your home.
February 25, 2019