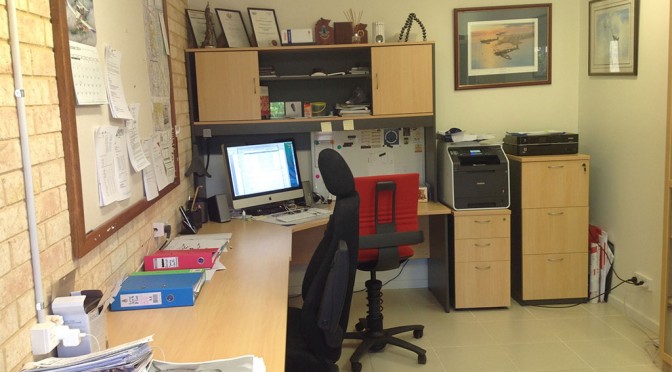 Your Home Office
When you decide to become an online marketer, you need to seriously consider the different home office designs that are available, because you need to create a dedicated home office space for your home business.
Running an online business full-time or even part-time from your home is no fun when you have to work off the kitchen bench or balance your laptop on your knee in the family room. Of course, there are some people who wouldn't even consider home office designs, because they like the freedom of not having an office.
Flexi Home Office Designs For Online Marketers
At the very least, most home office workers like to have ultra-comfortable home office furniture, including a computer chair and office desk, considering that you might be at your office desk at home for eight or more hours each day. A dedicated home office will give you the peace and quiet to work without family interruptions in your home, giving you the time you need to spend building your online business.
At Flexi, we have lots of home office designs that are perfect for online marketers, from simple home office design ideas and budget conscious home office designs to unique and high end studies and home offices. Whatever you need, Flexi home office and office storage space designs can give you the perfect office space at home.
So start thinking about how much office storage space you need for your office at home and for your home business. For example, if you hold an inventory at home you can even have shelving, drawers and other display cabinets included in your home office designs.
There is also the opportunity to have a seating area for customers or sales reps as well, if this is something that would be useful for your business. On the other hand, you can have a combination business office and study, so that the kids can use the same space to complete their home work after school.
If you have a couple of casual employees who come in for a few days a week, then you can have multiple computer desks fitted into your office, all of which are custom built to give you a professional, functional and good looking office space.
Home office designs are not just a desk, chair and a few shelves. Today, most professional online marketers want an office space that is comfortable and where they don't mind spending each day, building their customer base and promoting their business online.
So if you are still struggling with an inadequate office space at home, maybe it is time to bite the bullet and invest in a brand new home office for your business.
To discuss your home office designs with one of our master designers, call us on 08 9301 4200 or complete our online enquiry form and we will make a time to visit you at home.
May 10, 2016