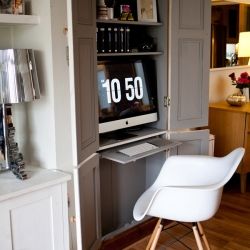 We all know how useful it is to have a designated area in our homes where we can manage all our household accounts with all our paperwork and documents together in an organised manner.
Then there are those people who work from home and must have a suitable work area with desk, chair, ample storage, good lighting, ventilation and power outlets located close to where the electronic equipment will be.
Creating a home office is easily achieved when there is more than one room in your home, however it is quite a different story for those people living in a one bedroom apartment or studio!
The fact is that there is not another room that can be repurposed and therefore the need for innovative thinking outside the box is required.
Flexi Home Office Ideas
The furniture design and manufacturing team at Flexi in Perth have been solving office storage challenges and creating clever home office furniture for decades.
You will be amazed at the practical solutions the team at Flexi can come up with. Not only can the design , build and install a custom home office for your tiny space, it will look beautiful as well.
Just imagine, custom design full height cabinet which looks like a statement piece of furniture in your living space.
The beautiful cabinet opens up to reveal a full width pull out desk top, large enough for your computer and several files, ledgers and your favourite coffee mug. Overhead lockable cupboards with lighting built in underneath to provide ample light down to the desk top.
Plenty of room under the desk top for a set of filing cabinets and a great comfy chair. Let's not forget about getting rid of those ugly and troublesome extension cords running across the floor, and replace them with built in power outlets for your electronic equipment and chargers etc.
What a great idea for your home, a compact office in a cupboard, and when not in use, you simply push the chair under the desk and close the doors, then presto you now have an awesome piece of furniture to compliment the rest of your living space.
So if you are finding it a challenge to organise a work space in your small living area, contact the team at Flexi, they have some great ideas to help you solve your home office storage challenges.
Contact (08) 9301 4200 and let Flexi transform your work space.
September 24, 2018