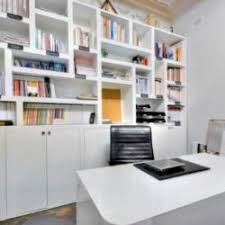 Home office ideas are not exclusive to those who need to work from home.
Modern families need a designated space in the home which is away from the noise and bustle of kitchens and the television.
This space can be used as a multi purpose, utility room providing a solution to those in the household who need to study, write emails, pay bills, manage finances, online banking, online shopping, prepare tax papers, read or just have a private phone conversation.
We all need a secure space at home where we can store our accounts and private papers, a lockable filing cabinet in the home office is the perfect solution.
In your study at home you can have one long computer table that runs the length of the room with multiple computer points or individual desks for each person, and also include a piece of furniture, be it a bookcase or maybe a unit with cupboards at the bottom and shelving at the top, which would be an ideal way to allocate each family member, their own place for their particular stationery, books and personal paraphernalia.
Keeping things separate, keeps things fuss free.
Why We Need Simple Home Office Ideas
Desks for the kids to do homework and study
A place for mum to do her household bills
Stationery and other office paraphernalia stay in the home office
A space dedicated for the computer, phone/fax, etc
This is a great place to speak privately on the phone
Online shopping
Read the news or do a crossword puzzle, in a quiet spot in your home without being disturbed? Maybe you just need somewhere you can read your favourite books?
You may prefer to do nothing, just relax
Whatever you need this valuable space for, get started with your list of what it is that you need in the room and then contact the team from Flexi who have been designing and creating perfect home offices for very satisfied customers in WA for over 15 years.
Complement Your Lifestyle With A Flexi Home Office
A Flexi home office will enhance your lifestyle whether you work from home, or you have a family that need their own spot in a shared room. Reasons to choose a Flexi home office include:
A professional work space
Functional
Ergonomic chair option for work desk
Cleverly designed desk and storage furniture
Making the best use of space available
Modern decorating ideas that are complementary to the décor of the room
Fitting to the needs and professionalism of the people who will work there
Designed, built and installed by a company who really care about the service their customers receive
For the best home office designs in Perth, contact Flexi Home Offices on 08 9301 4200 and arrange a time for a home visit.
December 19, 2018