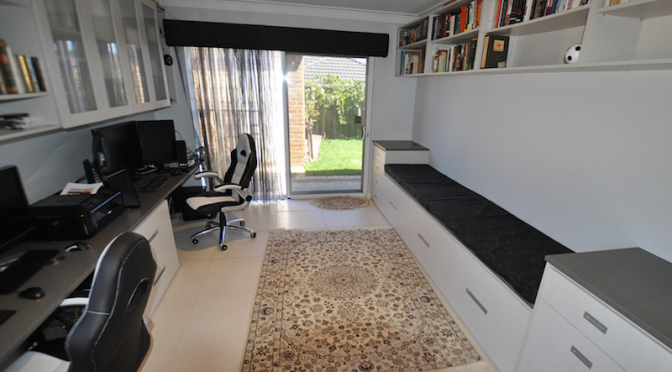 Almost every home these days has an office or study in some shape or form. In each house, the home office will play a different role, from computer room, to kids play room/toy storage room, to the family business office. Regardless of what the room is used for, generally the home office is a busy room in the household and used by most family members.
Often the home office is decked out with standard department store desk , storage cupboards and dated metal filing cabinets. For some, the idea of designing a fully custom made home office with clever storage ideas is daunting so we've compiled some questions that we are frequently asked and some useful ideas. Ideas on how to design a home office with clever storage room ideas and create a beautifully functional home office.
Let's take a look at some simple but effective home office ideas.
OFFICE DESIGN IDEAS
I have a spare room that I'd like to convert into a home office with storage room, but I'm unsure of where to start. Help!
Everyone is going to have different needs and at different stages of their life, the home office will have different purposes. If you run a business from home, you'll need to have a different set up to someone who simply wants somewhere to hide the household bills. Perhaps you'd like a more executive feel if you have clients that come to your home or you might need a lot of office storage and  shelving space for files.
Similarly, those with school  aged children might need to design multiple office work areas so the kids can complete their homework in peace.  Ideas on what the room will be used for will help decide exactly what design will be needed in the room and ensure you have a fully functioning home office  that suits your ideas  and office room storage  needs.
I'd like to set up an "Internet Zone Office" for my younger children. What ideas should I consider when designing the office/storage in this room?
Not knowing what your children are up to on the internet  is a major concern for parents these days. It is always a good idea to try and ensure your desk is situated so that the computer monitor is facing outwards, so that passers-by can easily view what's happening on screen.
I run a business from home and want a room that is practical but also presentable for clients to see. What design ideas would you suggest?
Just because you run your business from home, doesn't mean your office has to be any less professional. Clever design ideas suggest opting for a desk with a conference end. This not only adds desk space in the room, but also provides a secondary seating area for any clients or visitors who may come to your home office. 
I have a lot of electrical devices in my home office.  What design ideas would  ensure I don't have cables running all over the place?
Practical design ideas for a simple study, home office or computer zone ,  may incorporate just needing a computer and printer. For a home office, your design ideas may need multiple computers, printers, scanners, ,fax machines, modems and a vast array of other office equipment that all need power. If your design ideas include not wanting to add in any additional power points, the location of your current power points will generally determine the layout and design of the room.  Sensible design has the computer by the power outlet , therefore  determining where the seating area will be away from the power cords. This design will eliminate the need  to run extension cords. If you are happy to add extra power outlets, you can potentially design your seating area first and then work out the location of the other office equipment based on this. You can also eliminate messy cables running all over the floor by adding a cable tray underneath your desk, so that cables can run along the desk off the floor and not cause a trip hazard!
What design ideas  suggest how  to increase my desk space but not lose any storage?
Movable tower holders and pull out printer shelves sit under the desk and allow you to keep these items off your main working area. Also consider clever design ideas for overhead cupboards to store files and other paperwork.
I always end up with post-it notes and messages everywhere. What design ideas  do you recommend for neatly keeping messages?
Maybe you should consider a glass splashback in your office. These are generally associated with a kitchen but can be used in an office as a stylish alternative to a whiteboard. You could also incorporate a traditional pinboard. These are available in a wide range of colours if you wish to modernize it a bit. Flexi also has a range of gloss white magnetic board. Making your overhead cupboards with this is a unique way to save space and have somewhere to stick those important messages. 
The great thing about designing a custom home office is that the possibilities are endless! No matter how you're planning to transform your home office,
Flexi's  experienced designers can help you design a custom home office to suit your needs and budget. Why not call Flexi today on 9301 4200 to make an appointment or stop by one of our state of the art showrooms in Myaree and Joondalup?
August 24, 2015