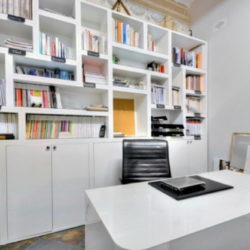 If your entrance has a private feel to it, your clients are more likely to take you seriously and feel confident in the service you provide.
Get Serious About Your Business With Flexi Home Offices Perth
You will be pleasantly surprised as to what can be achieved in a limited office space when you have a clever layout and the right office furniture.
Flexi have been designing and crafting quality home office furniture for many years now and have a reputation for providing exceptional products and outstanding customer service.
There a lot of people today who need to work from home in Perth.
This can be beneficial for those who need to supplement the family income while still taking care of the day to day chores of running a household.
This arrangement can work very well if there is a designated office in the home where business can be done without interruption.
The office needs to have the right office storage furniture including a suitable desk, correct size chair and adequate storage for files and stationery items.
There needs to be enough power outlets to avoid extension cords laying across the middle of the office floor where someone can easily trip over them.
If the office has a smart layout, it does not need to be very big, it just needs to have sufficient ventilation and natural lighting where possible and also set up with suitable storage to accommodate the items that are needed for working efficiently in the space without being cluttered and overcrowded.
It makes sense to have a lockable door to your office, this is essential to keep any children from borrowing stationery or for the cat to start "kneading" the office chair.
Your home office is the "No Go Zone" for the rest of the household.
Privacy In Your Home Office Perth
If your business involves dealing with clients, then it is a must that you are able to provide privacy for them when they meet with you.
Your clients will expect to see a professional image of yourself and your office space.
Something to remember is the entrance to your office, as this is the very first impression that your clients will have of your place of business.
It is not ideal for a client to arrive and have the family dog jumping up and all over them, or to see you nursing a child, this can appear very unprofessional, suggesting that you may not be fully focussed on their business.
See for yourself how Flexi help to promote your home business with a professional finish that will impress.
For your free consultation contact us to make an appointment with one of our team today on (08) 9301 4200.
August 2, 2017