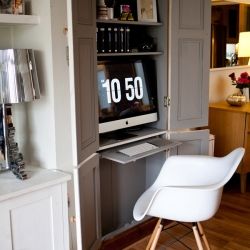 Are you wondering if you have enough room at home for a home office?
Do you think your home is too small because you do not have a spare bedroom?
Well none of this is a problem if you are needing a secure, private space where you can work from home with a desk and chair, access to the internet, phone, fax, printer, stationery and suitable storage for files and documents.
This is easily taken care of with a custom designed, built in home office. The ideal solution when you have limited area in your home.
The Team at Flexi can design the perfect built in office for you in a short space of time and with minimal disruption to your daily routine.
Clever Home Office Solutions In Perth
Just imagine that all of your business paraphernalia could be kept in an organised, custom built home office which can be closed and locked when not in use.
This is the perfect scenario for those of us who live in compact apartments with only one bedroom. The home office can be seen as an attractive piece of furniture when closed, and then become a fully functional workstation when needed.
If this innovative idea is appealing to you, pick up the phone and contact the team at Flexi in Perth and find out just how easy it is to get organised in a smart home office that will only take up the space of a single wardrobe, you will be amazed at what can be achieved in a small space.
Flexi Home Offices
When choosing the team at Flexi to create the perfect home office for your specific needs, you can be assured of:
On time delivery and installation
The ability to set work within their own budget
Quality workmanship
Professional standards
Friendly and courteous staff
Experienced office designers who listen and create the ideal solution for your unique needs
Colour and style choices that will compliment your residence
Qualified tradespeople who are respectful of your property
See for yourself how Flexi help to promote your home business with a professional finish that will impress.
For your free consultation contact the team at Flexi to make an appointment with one of their team today on (08) 9301 4200.
November 29, 2018