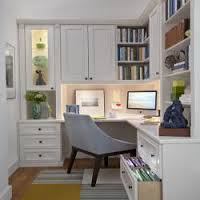 The home office is an essential part of every household in Perth. Whether you work from home or not.
For those people who do not run a business from their homes, they would still benefit from a designated office space in the family home for many reasons including:
With the management of the household accounts, a home office is the ideal place to keep all invoices, insurance policies, birth certificates, marriage certificates, immunisation records, and other important papers filed securely for easy access when needed
The home office is the logical area to have the computer, fax, printer and computer station, stationary, scissors, paper, pens, correction pens and staplers and various other items the family need
Tax time is another reason to have all accounts neatly stored in a home office, because it is so much easier to go to a specific file and have all the documentation which is needed for the preparation of your tax assessment, or to handover to your accountant
Important documents can be kept safe, secure and accessible in a lockable filing cabinet large enough to keep all documentation and valuable papers
A home office is an ideal room to go to, for some peace and quiet away from the bustle of the rest of the family, for private phone calls or to surf the net
For the bookworms, the office is perfect library with a large bookcase, good lighting and reading chair
The students will be more productive in a study area where they can do homework, research or projects
A very welcome retreat when you want to get away from the sound of the television, kids squawking and the dog barking
Custom Home Offices From Flexi In Perth
For the best quality, custom built home office and office furniture design in Western Australia, discerning customers in Perth have been coming back to Flexi time and time again.
The team at Flexi have an outstanding reputation for impeccable product quality and customer service which is second to none.
Flexi showrooms in Myaree and Joondalup are designed to let you experience the feel and the quality of their products for yourself including:
Soft closing doors and drawers as standard
Innovative office ideas
Cleverly considered storage and cable ideas
Ergonomic, efficient and well designed work and study areas
Vast choice of styles, designs and colours
Beautifully functional designs
If you would like to know how to get started with your new home office , study or library, contact the friendly team at Flexi in Perth on (08) 9301 4200.
March 7, 2019