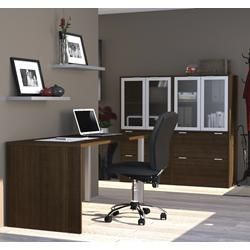 There are still some of us living in Perth, who wonder whether it is necessary to have a home office or not.
If you are looking at building a brand new home in Perth, you will notice that many designs include the provision for an extra bedroom or a home office.
Consider carefully whether you need to have a spare bedroom or a home office.
Just because you do not work from home, or have any children still living at home with you, who need a study to do their homework, there are many reasons why a designated space for the running of your household is important.
The fact is, to run our household efficiently we need a designated area in our home which has practical office storage furniture including desk chair and filing cabinets, where we can make sure that all the accounts and receipts are filed to be easily accessed when needed.
Tax time is a perfect example, when all of your receipts and invoices are stored in one place, you save a lot of valuable time when you do not need to rummage through various draws, shoeboxes and suitcases trying to find an important document.
It goes without saying that valuable papers and documents need to be stored in a secure place within the home and having a discreet safe in your home office is the ideal solution.

Every Home In Perth Needs An Office
It is so easy to plan your home office when you have a clean slate to work with.
The team at Flexi in Perth have been designing and creating offices for both professional suites and residential offices for many years.
Flexi offer an excellent on site visit service where you can discuss your ideas and needs for the ideal space for your home.
They will take accurate measurements so every bit of available space will be used to create the perfect custom office for your particular needs.
Flexi's professional team will be happy to discuss your specific home office design needs and make sure all your requirements and ideas are taken into consideration.
Do yourself a favour and call Flexi today on (08) 9301 4200 and speak to one of their experienced team to see how easy it is to turn your ideas into reality.
June 6, 2019