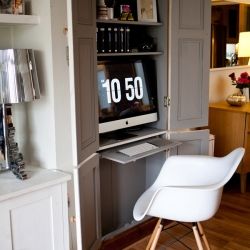 Many people need to have a designated home office space in their homes, however with so many people choosing to live in city apartments now, the option to repurpose a spare bedroom is not available.
Just because you are living in a compact home, it does not mean that you cannot enjoy the benefits of a well organised home office.
Flexi Handcrafted Furniture With Ample Storage
The team from Flexi have been solving office storage problems for decades and they are very proud of their reputation for providing outstanding product and customer service.
People who need office storage furniture, built to a high standard and impeccable quality, will choose Flexi to design, manufacture and install their beautifully practical custom office furniture.
The team from Flexi are able to come to your home for a first hand look at the space you have available and also to chat with you about your particular storage needs and options.
You will be impressed at how easily they can suggest the perfect solution for your needs, even if you live in a one room apartment.
Consider having a gorgeous statement piece of furniture which opens to display a perfectly organised space for your computer, electronic devices, lockable filing cabinets and storage shelves, this is a great option for a tiny living space, especially if built in from floor to ceiling.
Not only will you achieve a practical compact home office, but you will also have a beautiful addition to your living space.
Your beautiful piece of statement furniture can be made to suit your current decor, and then opened to reveal a stylish, compact office including desk, chair, drawers, shelving, charging stations and lighting.
You will not find anything as good as this,anywhere!
Flexi customers enjoy having beautiful pieces of custom designed storage furniture that has been purpose built to meet their personal needs.
Your experienced team will be able to discuss all the various options open to you as well as provide you with a quote on the day.
For a stress free transition from chaos to organisation, contact the team now for a free home consultation.

Where Are Flexi Custom Home Offices?
Flexi Home Offices are based in Western Australia with a home base located at:
55 Salvado Road
Subiaco
There are two excellent showrooms located north and south of the river.
North of the river is the Joondalup showroom located at :
Unit 2/21 Delage Street,
Joondalup 6027
Contact Numbers
Phone – (08) 9301 4200
South of the river is the Myaree showroom located at:
Unit 5/67 McCoy Street,
Myaree 6154
Contact Numbers
Phone – (08) 9317 6688
July 23, 2019