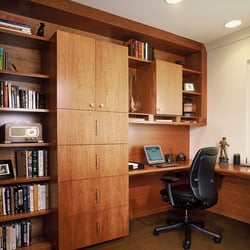 Many people now choose to work from home as an alternative to spending valuable time commuting daily in traffic.
Here in Perth, WA, people's work lives have changed dramatically with many homeowners now working from their home office.
This can be the ideal solution for people who work remotely from their residential property.
One of the most important things to note about working from home, is the importance of being able to separate business from home life.
Not only does it makes sense to close the door on your work at the end of the day and focus on your family life, but you also need to keep the younger members of the family from wandering into your workplace and borrowing things, that may never be seen again.
When a child is in need of some paper to draw on, the fax paper looks very tempting, along with the white out, the stapler and paper clips.
Then of course there is the cat who likes to stretch it's claws on the leather desk top and chair.
Put simply, the office is for work and the kids and pets need to understand that it is a no go zone, and nothing works better than a locked door!
Flexi Home Office Design Ideas
Each person has different needs in a home office work space, and therefore it makes complete sense to talk to the experts in creating home offices and find out what options best suit your particular requirements.
Whatever your work space needs, the team at Flexi can offer several choices for your office design and storage solution.
Organiser office: Clever design makes these office or study nooks, great for those who are are on a limited budget and need a complete office storage area in a separate space.
Professional office: For people with a larger budget or a separate room for their office, where there may be several people working together who need their own desk and storage space.
Executive office: For the ultimate in home office furniture and storage solutions, this range offers high-end finishes and premium quality timbers used in crafting all furniture and cabinetry.
All of our cabinetry is designed by master craftsmen, including the Organiser range, which is far superior to any flat-pack product in Perth.
Contact Flexi Home Office Designs on 08 9301 4200 to arrange a free home consultation and quote.
January 22, 2019