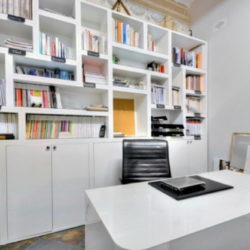 The ideal custom office is a space that provides all that you need to run your business as efficiently as possible.
Starting up a business today can be a very stressful time, is very understandable that we want to minimise our costs when it comes to running a business.
There are so many varied expenses that we incur with the daily operation of our business it can be hard to make a profit.
One of the largest expenses is often the money paid out for office space rental and those associated costs.
These days more and more people are choosing to save a lot of money by working from their homes.
This can be a very effective and practical solution, while you are first starting out and growing your business, giving you the opportunity to put the "office rent" money that has been saved towards something else.
One thing to remember though, if your business involves meeting with customers, you need to make sure that your home office is set up in such a way that any visiting customer or client will feel comfortable and also that you project a professional image.
When you have a custom designed office space at your home, you will be able to give a good impression to your customers by showing them that you are professional and successful.
Ensure Privacy & Security With A Custom Office Design
The facts are quite simple, prospective clients need to feel secure in the knowledge that they are dealing with a professional operator and that their personal details are kept private while safely stored in an appropriate manner.
A custom home office needs to be functional, practical and comfortable to enhance your working day.
Some smart ideas to give your home office a professional touch include;
Project a positive brand image with a smart office situated close to the front of your home, the replacement of a bedroom window with glass sliding doors is a simple yet effective way to turn a front room into a professional office if you do not have a study near the front entrance.
Make sure your office is clean and fresh with as much natural light as possible. If the outside view is not pleasant or distracting, some modern tasteful window coverings that allow in natural light will do the trick.
Display all relevant certificates and diplomas together in a prominent area, making sure that they are clean and free from dust.
Your desk needs to be the right size for your needs, remembering will need room to spread out some files and paperwork without having to move the printer and fax machine.
Your chair needs to be comfortable and so does the chair for your client to sit in.
A wall of full height storage shelving with some lockable cupboard doors below with save you having to office cupboards and slimline filing cabinets.
It is always nice to have a water cooler with disposable cups within easy reach.
It goes without saying that you need to run a power strip behind your desk and plug everything into that, keeping your traffic area free from power cords which can become a health hazard.
It is a lot easier than you think to create a very professional custom office in your home, and with some excellent design ideas for your office and office furniture you will chomping at the bit to get started.
Give us a call here at Flexi Home Offices on (08) 9301 4200, we will be delighted to help you get into the custom office you deserve.
September 8, 2017