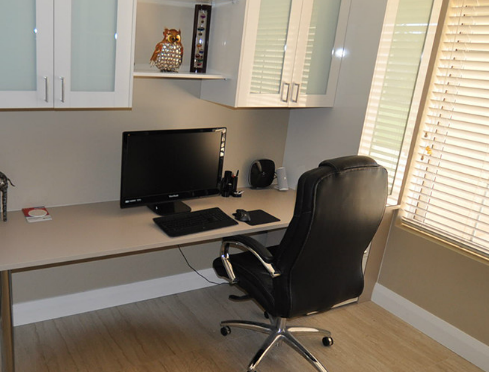 First Impressions Count
We all know that first impressions count, particularly in business. This is why it is so important for you to present a professional appearance to your clients with a custom office.
When your business is on the line, it is no time to stint and a professional stance can go a long way to enhancing the recognition of your brand within the community. It doesn't matter whether you run a home based business or have a leased office, impressions count and investing in a custom office makes good financial sense.
3 Benefits Of  A Custom Office For Your Business
When a client walks into your leased space or home office, they make a very quick calculation about the value of your business. So if you have a disorganised mess in your office with mismatched office furniture, boxes stacked against the walls and a broken fridge in the corner, their estimation of your business's value plummets.
Invest In Your Business With A New Home Office
On the other hand, if they see a well thought out custom office space with streamlined work stations, walk to wall storage and a comfortable customer seating area, they will be very open to doing business with your company. So let's look at the 3 benefits of investing in a custom office for your business.
Create a brand: Every business is a brand, but how you portray your brand within the community can make or break your business. The design and layout of your office represents your brand, so if your office is professional and appealing then that increases the positive vibes around your business. If it is unprofessional, untidy and has clearly not been given much thought, then that is the impression of your company that will stay with your clients. A custom office wether it be at your home or a leased property, on the other hand, will portray a solid impression to your clients.
Employee satisfaction: If you have employees working for you in your office, even if they are casuals working in your home office, the environment can make a huge difference to their productivity. If you give them a custom office space that is designed to make their working day easier and more comfortable, then their spirits will be lifted and their productivity increased.
Tax benefits: Of course, when you invest money in a custom office you can claim this against your business taxes, making it a win-win situation. You increase your customer base, because they have confidence in the quality and professionalism of your company, and your employees are happier to work in a custom office space and your business increases accordingly.
A custom office space just makes good financial sense, here at Flexi we will come to see you in your home or your leased office space to measure the area and discuss your needs.
So give us a call at Flexi Home Offices on 08 9301 4200 or complete our online enquiry form and we design the perfect office for your business.
April 21, 2016