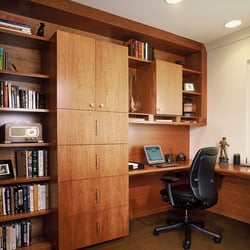 Having a custom office that is well designed and fitted out to meet your specific requirements as a professional business is very important when you meet with your clients.
When it comes to making a good impression on clients, it is important that the very first contact shows a great image.
When a potential client or customer contacts your business by phone it is important that the person who answers the phone is well spoken and professional so that the prospective customer feels confident about your business being professional.
The same thing applies with your work space , as this is where your clients may meet with you to discuss business.
If you work from a shabby, unorganised work space with outdated furniture and boxes of files stacked on top of each other in the corner, your clients are likely to wonder if you are really successful.
It may well be time to spruce up your office and brand your business as successful and efficient with a customised work space to match.
Your New Custom Office Is Just A Phone Call Away
If you want your customers to take your business seriously, you need to have a great image both personally and in your workplace.
Customers are always attracted to successful businesses and will always choose to deal with a company that they believe will provide the better service or product that they need.
Flexi Home Offices in Perth, are a well known and trusted company who have been providing outstanding products and service to their customers since 2001.
Flexi have experienced designers who think differently, and focus on what your needs are for your work space.
The team at Flexi can bring your vision to life with a design second to none.
They have a state-of-the-art 3D design software that helps them to create your work space right in front of your eyes.
By meeting with you in your home or work space they can measure and design on the spot.
You can make adjustments and alterations on the spot, making the most of the experience and knowledge of our talented designer.
Our designer will suggest combinations and solutions from our Flexi office range that will resolve challenges in unique and practical ways. You will be able to see how a different shape or layout could dramatically impact movement around your office.
It is the experience and extensive industry knowledge of their designers that makes Flexi offices a space of beauty and success.
More than 50% of their business is repeat or referral work.
Contact Flexi Custom Offices on (08) 9301 4200 and find out why.
June 6, 2017