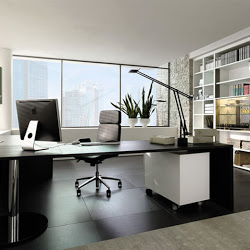 If you are a self employed business operator you need to take advantage of every tool in your tool box, that includes your image and therefore a custom office design and work space which is designed to streamline the running of your business will enhance your brand with a very professional stamp.
For those of you who deal with customers or clients at your place of work, you need to give the very best impression you can, and if you have a well set up and organised work space, you will reflect that image to your clients. People prefer to deal with organised and successful business operators.
Getting Started With A Custom Office
Getting started with a custom office is a lot easier than you may think, whether you work from your home or in a commercial building.
Setting up an area that is specifically designed to suit your needs is all about the planning, and here at Flexi we have been creating exceptional office spaces for customers since the turn of the century.
We take the time to really listen to our customers and understand what it is that they really want. We are able to combine all of your requirements with our extensive knowledge of functionality and ergonomics to create the perfect office to suit your needs.
At Flexi we design offices that work with you to give you the freedom to run your business smoothly and efficiently.
One of the most important services we offer is our onsite visit to look at your work space and discuss your ideas and needs for your new work space.
Our state-of-the-art 3D design software will help us create your unique work space right in front of your eyes, however it is the experience and extensive industry knowledge of our designers that makes a Flexi office a space of beauty and success.
This works very well as we are able to address any challenges right there and then in the area that will become your new office.
Your custom Flexi office is:
Made to measure
Built to compliment your specific working style and business needs
Designed to incorporate everything you need in your office
Attractive to look and designed for work success
Speak to one of our industry experienced designers to find out how we can create a custom office that will exceed your expectations as well as delivered on time and on budget.
Do yourself a favour and phone us today on (08) 9301 4200 to arrange your free design consultation where we will demonstrate how we are able to bring your custom office design to life.
January 4, 2018