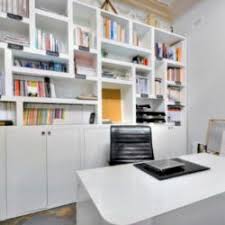 Most people need a home office in their Perth home.  Just about everyone brings work home at some stage during their career.  Some people use a home office to sort out their bills and do their correspondence.  There are also those lucky people that actually work from home, whether they run their own business or work remotely.  Even kids need a home office to sit and focus on homework or assignments.  There are so many reasons to include a home office in a modern Perth home.  Here are some ideas on how to create a modern home office to suit a Perth home.
Fitted furniture
Fitted furniture looks great in a modern home office.  Besides looking great, fitted furniture also saves room in the home office which is especially important if office space is limited.  A fitted desk against the wall can be attached to fitted cabinets and shelving which can extend all the way up to the ceiling.  Fixing furniture to the wall is a great way to save space and it also gives the home office a stylish, modern design.
Add colour
Adding colour is the perfect way to create a slick, modern home office. The home office doesn't need to be plain and neutral.  Colour can be added to create a modern look to the home office in the form of colourful rugs, chairs, cushions, blinds and lamps.
The floating desk
The floating desk makes it easy to set up a modern home office anywhere in the house.  Even the smallest alcove in the house can make an ideal space to set up a home office with a floating desk!  Under the stairs, next to the kitchen, in the hallway or on the landing of stairs are all places that can be quickly transformed into a home office with the addition of a floating desk.
Large table
A large table in the centre of a home office acts as a double sided desk.  This can be handy for people that share a home office, such as husband and wife, or it can be used to create two separate workstations in the office.
Flexi Home Offices in Perth have years of experience in designing and creating modern, functional home offices.  Their dedicated team can design and install a modern, new home office in as little as four weeks.  They guarantee a great service that you can trust and the best quality products every time.  Contact Flexi Home Offices in Perth to find out more about their beautiful home offices.
July 11, 2018