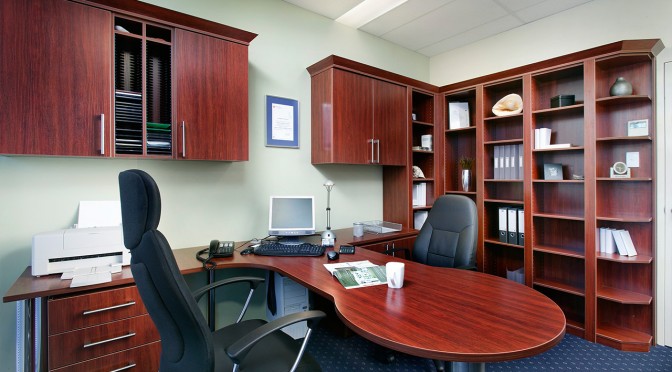 When we are in our custom office space, we all need to be able to function at a level that allows us to be as productive as possible.
Working from a custom office means that the work space has been created to serve our own particular work needs.
Creating the ideal custom office space to work from whether it be from your home or elsewhere, begins with an understanding of what you actually do need in your work space.
Be Professional While Working From Home In A Custom Office
If you are working from home, you will need a designated room that is away from the rest of the family living areas.
The room should be ideally situated at the front of your home close to the front entrance.
This location near the entrance is perfect if your business involves customers coming to see you for products or services.
The ideal working space will mean having the right furniture and storage solutions.
It is a smart and safe idea to make sure you have the electrical equipment close to the power outlets to avoid tripping over extension cords stretched across the room.
You can improve your natural light and ventilation by placing your desk near to the window.
Good lighting over your work desk and a good ergonomic chair that allows you to adjust the height to fit you is essential for your comfort and well being.
Having a door that you can lock is necessary if you have client's personal information filed in your filing cabinet.
Keeping little visitors into your work space is necessary if you do not want to find that your pens, paper and stapler have gone missing.
Flexi Are The Experts In Professional Custom Office Furniture Design
Our team at Flexi Home Office Perth are the experts in all things "Custom Office Furniture".
Our team of professional furniture designers and specialised craftsmen are able to custom design and build quality furniture and storage solutions for any size offices.
We will come to your home or your professional office away from home to discuss all your ideas and needs for your work space.
Accurate measurements will be taken to make sure of optimal use of space.
Our experienced staff can advise you on many smart storage solutions to suit your specific needs.
Talk to the experts and discuss your needs and requirements with the experts in custom office designs.
No matter what your budget, the Flexi Custom Office team will be able to design and create the perfect custom office and storage solutions for you, while keeping within your budget.
You can meet the team at Flexi Custom Home Offices to discuss your ideas or call them for more information about a free quote service.
Please contact us on 08 9301 4200
May 14, 2017