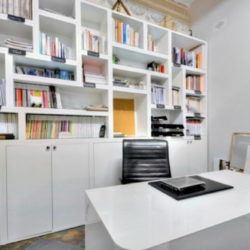 There are many times when we need to have a designated area in our residence where we can do the household accounting, email our friends or we may even have a job that requires us to stay home and work online, but unfortunately we do not have the room to set up a home office.
This sounds like a very convenient arrangement however if you have a small one bedroom apartment this could be a major issue.
Clever planning and smart use of space is all you need to create a small office nook in your home.
The bedroom is a good place start if you have a full wall of built in wardrobes, a compact computer station can be built into the existing robes to incorporate a desktop, shelving drawers and power outlets for electronics.
This works very well if you wish to have your work area out of sight.
If you have the room in your living area you may prefer to have a custom designed, hidden office nook built into an area that could fit a regular linen cupboard, that would appear as a piece of beautiful furniture when not in use.
There are many options available for compact office areas to be created in smaller homes that do not have access to a separate room to use for work.
FLexi Have The Expertise To Create Home Offices In Small Spaces
Flexi have been designing, creating and installing innovative home offices for many years in WA, with our experienced team, we are able to custom create a home office to cater for your specific needs both at home and in a commercial premises, large or small.
If you need somewhere to do your work from in a small space, pleas give us a call her at Flexi in Perth and we will be happy to visit you at your home or workplace to measure your area accurately, discuss your ideas and needs before providing you with an on the spot free quote.
You will be amazed at what can be achieved in a small space, the key is clever office furniture and storage design making practical and functional use out of every centimetre of available space.
GIve us a call or come and visit us in one of our showrooms to get some inspiration.
Where you will see for yourself how a home office nook will compliment your décor and enhance your home.
For your free home consultation make an appointment with one of our team today on (08) 9301 4200.
November 28, 2017