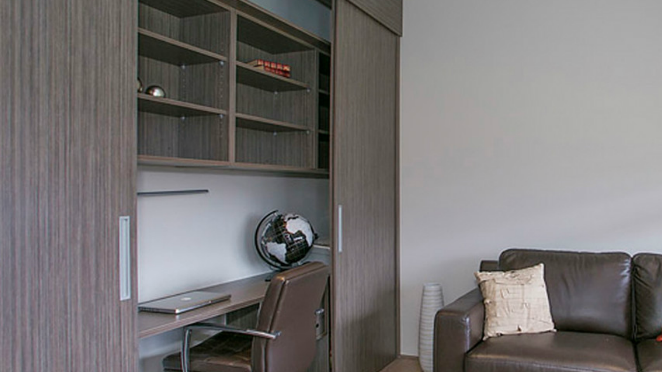 A Separate Office
A separate home office in Perth is essential when you work from home. You already know how difficult it is to work around everyone in the home at the best of times, but it is even worse at this time of the year with the Perth children home on school holidays.
Your quiet workday has now turned into chaos, because with your office computer in the kitchen or the family room, the noise makes working at home very difficult and everyone thinks you are at their beck and call.
Just imagine how pleasant it would be at home to have your own home office in Perth with a door that you can close (and lock if necessary!). There is a whole different feel about your work day when you have a separate home office – for your children and for yourself.
So let's look at two of the benefits of having your own custom designed, home office in Perth.
You can separate your work life from your home life
When you are using the kitchen or family room as an office, you are too accessible to everyone. Kids in particular, as well as partners, tend to forget that you are actually working and keep interrupting you all day long. Then theres your office paper work and files, you need office storage space for them as well. You need to be in a designated office with plenty of office storage and  suitable office furniture.
The problem is that they can see you sat there and so it is difficult for them to leave you alone. This results in too many interruptions and a loss in focus when you are working. A separate home office in Perth however, gives a clear signal to your family that you are in work mode at your office and not to disturb you unless the house is on fire!
Of course, you will most probably still have interruptions, but when you are in your office, this sends up a red flag to everyone that you are off-limits for the next 4, 6 or 8 hours.
You have everything organised – just the way you like it
With a custom designed home office in Perth, you can design your office exactly the way you want it, with plenty of office storage and bench space. Everyone works differently, so if you want a stand-up computer workstation in your office, a large graphics desk with an adjustable tilt function or space for 3 large computer monitors, extra storage for client files and office stationary, then that is exactly what we will design for you. A customised office at your Perth residence.
There is an endless choice of finishes you can also select for your new home office in Perth, from laminated computer desks to beautiful handcrafted pieces of office furniture. It all depends on the amount of space you have available, your style and your budget.
So if you are ready to take control of your work life at home and design the perfect home office in Perth, contact Flexi Home Offices on 08 9301 4200 or complete our online enquiry form and we will arrange a time for a home visit.
December 16, 2015