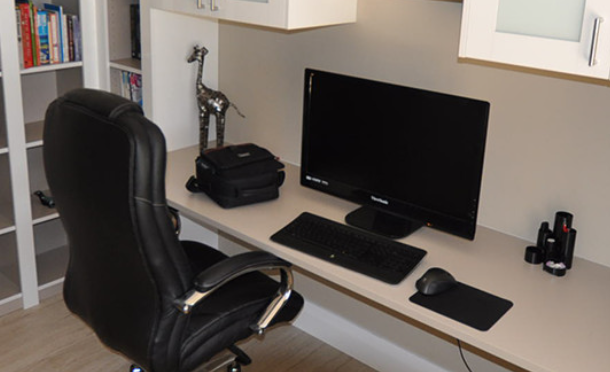 Now that you have found that early retirement is not really for you, it's time to organise a home office in Perth, so you can focus on taking your hobby or part-time business to the next level.
There is so much you can do with your time at home when you are retired, but if you have found that being at a loose end isn't for you, whilst your hobby or business idea is taking off, then a Perth home office is the next step in your metamorphosis.
When you have customers turning up at your home to collect your products or to discuss business with you, it doesn't look very professional if they have to sit in the garage next to the oil cans. A well organised and customised Perth home office is the ideal solution and will give you a dedicated home office space for your new venture.
3 Benefits Of A Perth Home Office
Keep the grandkids out: Whenever the grandkids visit you at home they can get into everything and if your laptop, paperwork and files are all set out on the kitchen bench or the dining room table, you have no hope of keeping anything safe.Little fingers get everywhere and apart from the interruption in your working day, losing vital paperwork is not only annoying, but detrimental to your fledgling business. So keep everything safe and organised in a dedicated Perth home office with a door that can be shut to keep everyone out.
Look professional: There is nothing quite like a professional, organised Perth home office to make you look like a serious contender in the business world. Even if you are kick starting a new part-time business at home, just spending your time in a real office space will help you to focus on your work and not become distracted by everyone else in the house.If you have customers or business acquaintances coming to your home, you will also give them a very good first impression of your business. This can mean the difference between a success and a failure in the business world, so it really pays to have a well-designed and organised office at home.
Design your own space: Have you always wanted a study at home, but never had the time or money to put one together? Well at Flexi Home Offices in Perth, we can design the perfect office space for your fledgling business and one that can also act as a study as well. This gives you more flexibility, because you can easily convert the room into a full study rather than an office at a later date.
So if you are a reluctant retiree and you need a professional home office in Perth, call us on 08 9301 4200 or complete our online enquiry form.
May 17, 2016