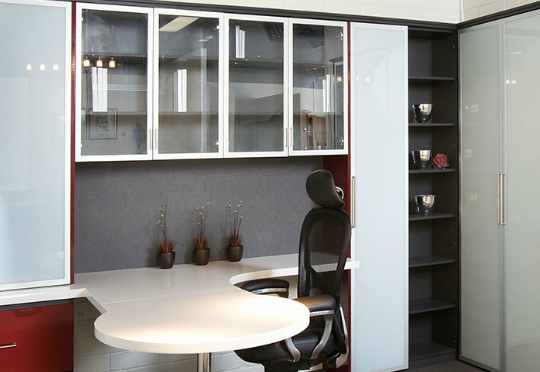 Co-opting the guest room into an office
Are you at a point in your life when you really need a home office in? Well if you have taken a critical look at your guest room and have decided that it could easily be co-opted into a great home office, here are 7 steps you need to make it fully functional.
Office furniture
Floor plan:

Take a look at your space and decide the best place for your furniture. The placement of your desk is the most critical element in your

office

, because this is where you will be sitting every day. If you can position your desk so you look out onto the garden, this is usually the perfect spot. It is important to have the right size furniture.

Desk:

The size of your furniture or working space is another critical element in your

office

. If the desk is too small it will start to annoy you. So think about how you will need to work in the space and the size of the desk that you need to make your working day more comfortable.

Chair:

Some people can sit in any type of chair all day long and they are fine. Others need good back support, so if you have to spend some serious money here, then it will be worth it in the end. Most people want a chair with the ability to alter its height, but do you need an office chair with lots of lumbar support and the ability to change the height and angle of the backrest as well?

Shelves:

Open shelving in your

home office

is great for keeping everything tidy, but also for having essential items on view. With wide deep shelving you can store your printer and fax out of the way, giving you lots more space on your desk.

Cupboards:

Furniture for storage is important.If you have a lot of files, books or other office essentials, a large storage cupboard is the perfect furniture solution to hide everything away from view. If you think about it, a custom designed

Perth home office

doesn't have to be a collection of mismatched furniture – you can have a very stylish office that is fully functional, but also looks great as well. So don't be afraid of wanting cupboards in your home office, because with a Flexi office it will all flow seamlessly.

Flooring: Your chair is going to be on casters, so you should consider replacing carpets with tiles or laminate flooring, as this will make it much easier to move around on your chair.

Lighting:

Don't forget that the overhead lighting is fine, but you might want task lighting as well, particularly if you are sitting in your shadow.
For help creating your perfect Perth home office, contact us on 08 9301 4200 or complete our online enquiry form and we will arrange a time for a home visit.
November 2, 2015