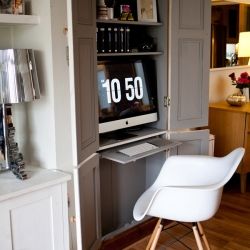 When it comes to creating a home office in your Perth residence, it is important to understand exactly what it will be used for.
A significant increase in cases where people work from home, means that more and more people are looking to create some sort of designated space where they can do their work in peace away from any domestic distractions.
A home office is essential for people who need to be productive in an environment set up for working in or running a business from their residence.
Of course not everyone needs home offices to run businesses from, however all households need somewhere to do the general running of the home accounts, bill paying and easy to access storage for all documentation, receipts, passports and valuables.
A designated office space is the perfect area to have the phone, fax, photocopier, scanners and computers necessary for keeping all accounts up to date and in an orderly system which will make tax time a lot less stressful.
This room is also ideal to keep all stationery supplies away from the usual drop off points such as on top of the fridge, bedside tables, coffee tables and of course on the floor in the children's bedrooms.
A multi purpose room in the home can also be used as a library and quiet study area for students.
Keep your living areas clutter free and stay organised with a designated area for all that paraphernalia which belongs in the study.
Flexi Home Office Ideas In Perth Homes
Our team here at Flexi in Perth are the experts in home office design, we have been creating custom office spaces for clients for many years.
Here at Flexi our design specialists and highly experienced crafts people will provide an outstanding service from your very first meeting right through to the professional installation of your completed project.
With a reputation for premium quality products and excellent customer service, it is no wonder that Flexi is the name to remember when it comes to designing, creating and installing custom built offices, office furniture, kitchens and wardrobe storage solutions in Perth, W.A.
If you are thinking about organising your home with a designated working space and storage solutions, contact the team to arrange a home consultation where you can discuss your exact needs with one of our design team members.
Flexi have beautiful showrooms both North and South of the river where you are able to see and inspect the quality of our products including:
Soft closing doors and drawers as standard
Innovative design ideas
Cleverly considered storage and cable ideas
Ergonomic, efficient and well designed work and study areas
Vast choice of styles, designs and colours
Beautifully functional design
See for yourself how Flexi will impress you with an awesome unique design to meet your personal needs in office storage solutions.
For your free consultation contact us to make an appointment with one of our team today on (08) 9301 4200.
February 9, 2018