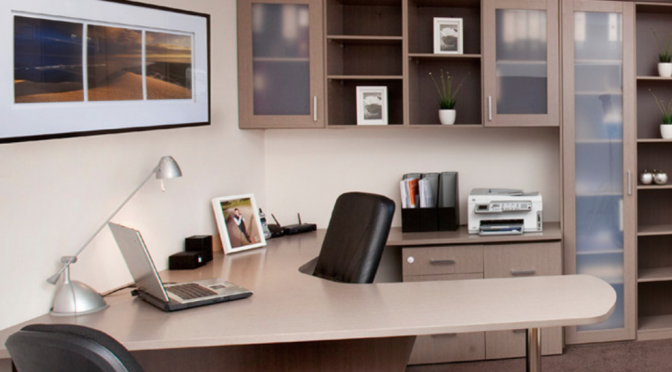 Home Storage Space Needs met With A Home Office
Home storage space needs can be met with a separate home office. If you are still trying to run your home-based business at home from your kitchen table or spare bedroom, then it is about time that you investigated one of our professional home office designs and ideas.. We know that working from your home has become a lot more popular over the past few years, and many people think that they can manage their home run business by carving out home office  room space in the home kitchen or the home guest bedroom for their office computer. Say goodbye to the kitchen bench or bedroom, there are better home office design ideas out there.
As we all know, these home office ideas work for a period of time, but as your home business grows and the demands on your office time continue to increase, trying to juggle all of your hats and still work from a confined home office space loses its appeal very quickly.
Our Home Office Designs Make Your Life Easier
As a home based business owner you need home office design ideas for your computer, your multiple screens, printer, fax, filing cabinets and other paraphernalia, as well as needing some peace and quiet. How good will it feel to have your own dedicated home office where you can simply focus on your work? This is the modern solution to office storage space. This is the smartest way to focus on your home based business,  working from home office in the family home . Keep them separate, the  modern style of home office and office storage solution that will grow your business needs to be separate to the rest of the family residence.
You can even leave things around without having to pack up at the end of each day, as they won't become lost under a mountain of school bags.
Professional Home Office
With one of our professional home office designs, just being able to walk away from your home office and close the home office door, gives you the freedom to focus on your family life without feeling guilty all the time – because you have now separated your home office work life from your home living life.
A home office also helps you to de-clutter your cramped home kitchen and living room space in the kitchen of your home. Get our professional craftsman to create your home office and to have home office design ideas that suit your home living lifestyle and your home office storage  and privacy needs.
Office Budget
Our designer will come into your home, check out your home office space and talk about your home office design style ideas and design needs. Our expert advice and style ideas will help you to select one of our home office designs that suits your living style as well as your budget. One of the best home office room ideas we can give you for a home office is to have a room with a hard floor, whether that is tiles, laminate or hardwood, because this type of flooring makes it so much easier to move around on your office chair than having to struggle against carpet. Your modern home office room ideas should include modern storage and office furniture. Your modern home office will need the correct size and style office furniture to fit the layout of the room.
It doesn't matter if you have a small room space or a weird shaped room space, our home office designs can be customised to fit any space – large or small. If you want lots of shelving, a large expanse of desk space or multiple work stations, we can come up with a design that suits your needs perfectly.
The overall costs will depend on the size of your home office and the finishes that you require, so if you are ready to simplify your work life with one of our home office designs, call Flexi Home Offices on 08 9301 4200 or complete our online enquiry form and we will arrange a time for a home visit.
December 10, 2015