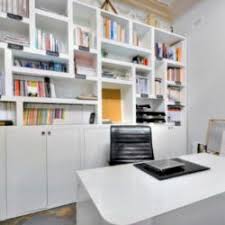 Have you been sharing your home office with the kids during the extended summer holidays?
Well, finally the holidays are over and the kids are going back to school in Perth, WA and it is time to find a solution for the kids to have their own office area separate from everyone else in the household.
As well as parents, most kids these days will be using a laptop, ipad or mobile phone, for communications and homework studies.
It makes sense to have a practical designated work area and charging station for each of those family members. How often have you found your phone battery flat because someone had unplugged your phone and charged their own device?
With a custom design home office in Perth, you can have a smart layout where there is a designated space for several family members to have their own work stations with ample power outlets for charging devices.
Each workstation can be equipped with lockable drawers and shelving, while there can also be open shelving storage for those items which all the family have access to, including books, maps, albums and some stationery items.
Flexi Home Office Ideas
The team at Flexi have been designing, manufacturing and installing awesome home office furniture for many years. They have earned an outstanding reputation for their premium standard of craftsmanship and also for their impeccable customer service, it is no wonder that Flexi are the trusted name in home office renovation and furniture design.
A visit to their Perth showrooms will give you the opportunity to look at the quality of the finished product and explore the many innovative storage ideas.
When you choose Flexi, you are choosing quality and excellent customer service you can trust.
With showrooms in both Myaree and Joondalup, you are welcome to feel the quality of the product for yourself, with features such as:
Soft closing doors and drawers as standard
Innovative office design
Cleverly considered storage and cable ideas
Ergonomic, efficient and well designed work and study areas for those who may choose to work remotely from home or students who need their own space to do homework and prepare projects, away from the noisy distractions of the rest of the family.
Vast choice of styles, designs and colours
Beautifully functional designs
Custom design features for those with specific needs
For your free consultation contact the team at Flexi to make an appointment with one of their team today on (08) 9301 4200.
January 30, 2019