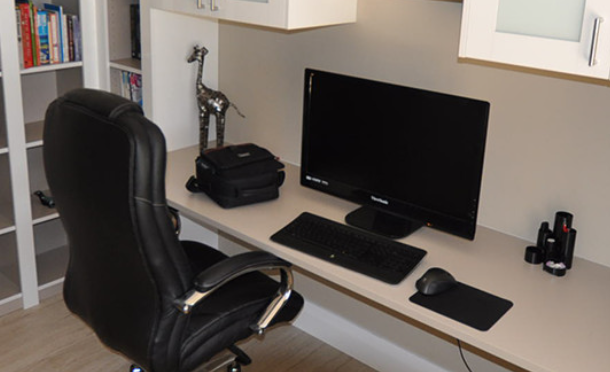 The Custom Office Design
Well designed, custom office spaces present a professional image to your clients and in today's financial market, it is prudent to do all you can to further your business. Whether you work from home or have a rented office space, it doesn't really matter, because the design of your office can present the right or the wrong image to your customers.
When it comes to your office, nothing beats having a custom office that is designed to suit all of your requirements, to be comfortable to work in and to look professional to your customers.
A Custom Office To Suit Your Needs
You might run a business from your residence with a few employees or have your own office space in a large building with one or more employees. The one overwhelming fact is that your office needs to be designed to suit your needs.
So if you require lots of open shelving, plenty of lockable storage units, multiple working stations and a customer waiting area, then a custom office design will give you exactly what you need. There won't be any mismatched furniture or lack of adequate desk space, because we have designed your office exactly to your specifications.
Work In Comfort
A custom office is meant to be a comfortable working space
When you work in an office all day, you quickly realise that the computer chair and desk combination can make or break your day. You need to feel comfortable when you work and that doesn't only mean feeling relaxed sitting at your desk, but feeling comfortable in the space.
If your office is drab and looks worn and outdated, and it doesn't have the right type of furniture (which is mismatched anyway), then the whole ambiance can make you unsettled. This can result in a lack of focus and concentration and before you know it, your business is suffering, but you can't put a finger on why this is happening.
On the other hand, a custom office, designed to suit your requirements, makes your heart sing and gives you a great place to do a day's solid work. Your employees will also work better, being more productive and soon you will see an uptick in your profits, showing you that a custom office was the answer all along.
A Custom Office Looks Professional
When customers come to your office, whether this is your home office or a rented office space, their first impression will be of your office decor. There is no denying that a slap dash office looks unprofessional and is not going to endear you to your customers. That is why a custom office that reflects your brand is such an important component in your road to success.
For more information on our custom office designs, contact  Flexi Home Offices on 08 9301 4200 or complete our online enquiry form.
April 7, 2016