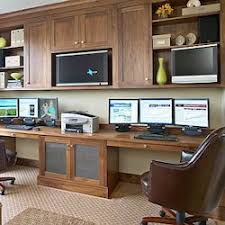 Today there are many people choosing to run their small businesses from their home office, rather than paying rent for an office space elsewhere.
If you are looking at reducing the cost of running your small business during the early stages, the money saved on paying rent could be invested into growing your business instead.
At a later date , when your business becomes more established, and your income indicates that you are able to easily afford to move your office to a professional suite, then you can do so without putting a strain on your business costs.
Setting Up Your Home Office In Perth
Working from home in a non specific work area can be problematic and stressful. Working from your home should be convenient, and it will be if you decide to create a designated office space in your home.
When you are considering the benefits of setting up a office at home to work from, there are several points to consider including:
To manage a successful business from home, you really need a designated office space with suitable furniture and storage options.
You need a work space which has a door that can be closed and locked at the end of the day, allowing you to walk away from your work, to enjoy relaxing and spending time with your family at the end of the day.
It makes sense to have lockable storage furniture for private client details and confidential documentation.
Clever furniture for storage will save you time and space.
Suitable size and height of work desk and chair.
Do you need shelving, cupboards or other storage systems?
Do you need extra seating for visitors?
If you have other people working with you, will you need multiple workstations?
Where will the the electronic equipment be set up?
Adequate lighting and ventilation.
OHS requirements.
The Perfect Home Office Design In Perth
A smart office design makes working from home so much easier and stress free.  At Flexi in Perth, the master craftsmen can design, create and install an office in your residence that will suit your personal needs perfectly.
Reasons why many satisfied customers choose a Flexi home office include:
Soft closing doors and drawers as standard.
Innovative office ideas.
Cleverly considered storage and cable ideas.
Ergonomic, efficient and well designed work and study areas.
Vast choice of styles, designs and colours.
Beautifully practical and functional designs.
See for yourself how Flexi help to promote your home business with a professional finish that will impress. For your free consultation contact Flexi to make an appointment with one of the team today on (08) 9301 4200.
November 19, 2018