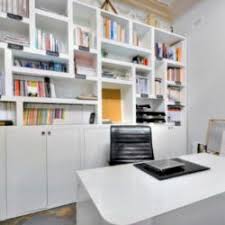 When choosing to keep business running costs down, it could be  a viable option to work from a custom office in your private residence.
Many people choose to run their small businesses from their home office in Perth, rather than paying for expensive office rentals.
It would be more profitable to invest the money you save on paying office rent, into growing your business instead.
Of course the time may come, when you are fully established and your income indicates that you are able to easily afford to move your office to a professional suite, then you can do so without putting a strain on your business budget.
To run a successful business from your home, your office work space must be practical and reflect a professional image.
Custom Offices Ideas
It is important to have lockable filing cabinets to store private customer details and business documents
You need a custom office with ergonomic chair and correct height desk
Optional seating for customers/clients
Separate area for fax, printer, photocopier, and other items that need to be plugged into power points, keeping extension cords to a minimum
Adequate lighting and ventilation
Easy to clean floor covering, timber or vinyl
Easy access to fresh drinking water or tea and coffee making facility
Lockable door
Flexi Custom Offices In Perth
Improve your work productivity and project a successful image to your target market by working from home in a custom designed office.
The innovative design team and master craftsmen can design, manufacture and install a custom home office in your residence that will suit your business needs perfectly.
For optimal results, get the experts from Flexi to come to your home and inspect the space that will become your new workplace. They will give you the benefit of their extensive experience in creating the perfect office spaces for people running various types of businesses from their homes.
The whole process from home visit to the installation of your new office is a stress free operation. The team from Flexi, take pride in making sure that the process goes smoothly with as little disruption to your daily routine as possible. You will be impressed at what they can achieve and at the high standard of customer service during and after the process.
For more information, contact Flexi Home Offices on 08 9301 4200.
December 13, 2018