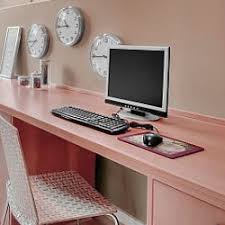 Working from home can be extremely stressful for many reasons, so it is a no brainer when it comes to whether or not you need a home office.
Trying to do anything at home when you have small children and noisy pets can be a nightmare!
Young children who are not yet going to school, barking dogs, noisy neighbours and of course the non working friends who know you are home so they decide to pop in for coffee? Oh please!! Not easy at all!!
Did I mention missing stationery items and sticky stuff smeared over your desk and chair.
Do you need to have clients visit you at your home office? Is it safe for them, are they going to be stampeded by the kids or licked to death by your over friendly doggy?
Get Serious With Flexi Home Office Ideas
If this sounds familiar and you are finding your working days to be less than productive, it is time to talk to the professionals.
The team at Flexi are the experts in home office design and storage solutions in Perth.
A smart office with a clever design gives you the psychological divider that is so important when moving from 'home' to 'work'.
Your home office design can make an enormous difference to work productivity and flexibility in your family lifestyle.
Flexi Home Office And Furniture Design
The team at Flexi have been taking care of their customer's needs for over 15 years with:
Clever office designs
Making the best use of all available space
Modern decorating designs
Custom designs that meet the needs and professionalism of the people who will use the space
Designed, built and installed by a company who really care about the service that they provide to their customers
Find out how the team from Flexi can transform your work space and help you to maximise your daily work productivity.
Contact the team today on (08) 9301 4200 to make an appointment.
October 24, 2018