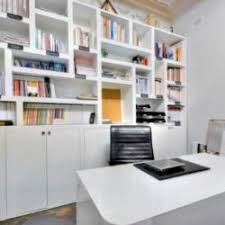 When your home office is being used to run a business from, is not practical for the kids to be using it as well.
Kids need their own area with their own set of tools so that the business equipment stays separate from the rest of the family.
A spare bedroom can be the ideal solution for a student office or study, however if you have a large double garage under your main roof, an office area can be built in easily.
If this is not an option, there are several alternatives that will provide the space needed for study activities and paperwork storage.
Compact built in offices are a clever way of storing books, files, paperwork and stationary items as well as laptops and phone chargers etc.
These clever units provide the perfect place to do homework, study or just surf the net, and then they can be closed up after use to become a beautiful piece of furniture.
A compact study nook with desk, storage drawers and a power board can easily be created in a built in robe where space allows.
Space Saving Home Offices In Perth
Flexi have the best quality custom built home office and office storage design W.A has to offer and discerning customers have been coming back to Flexi time and time again.
The process is an easy one, simply contact the team at Flexi and arrange a free home consultation.
You will be amazed at some of the innovative and space saving ideas that the experienced design team from Flexi will be able to show you, right there on the spot. You can discuss all your storage needs and your budget.
Flexi storage furniture solutions have an excellent reputation for quality and durability, with many excellent features included as standard.
Flexi home office solutions include:
Soft closing doors and drawers as standard
Innovative design ideas
Clever storage and cable ideas
Ergonomic, efficient work and study areas
Vast choice of styles, designs and colours
Beautifully functional design
Flexi have been around for years and they know how to complete your home office project with as little as possible interruption to your daily routine.
To arrange a home visit and free quote contact the team on (08) 9301 4200.
April 4, 2019